Often, the visitor is surprised to see that the Manneken Pis is dressed! This is sometimes the case, and it is not trivial since doing it is like celebrating a few things from a private person, an anniversary, a party, a people or a tradition, etc. There are a thousand reasons to dress the Manneken Pis and so much the better, because it has more than 1000 different outfits!
Some information about outfits ...
It's rare, but it's quite normal, to dress this statue is a tradition that goes back to its creation. We can even say that the greatest kings of Europe have offered him outfits. Among them, the governor-general Maximilian of Bavaria (1695) or the king of France Louis XV (1747). But these outfits remained little used until the beginning of the 20th century.
Between the two world wars the movement of accumulation of outfits began to take place. At the beginning of the Second World War, the Manneken Pis had a few dozen outfits, and after the war he received more and more. Each year his wardrobe increases by several dozen clothes, and nowadays he has more than 1000!
Besides, these clothes were initially on display in the Brussels City Museum, but as it took up too much space, a new exhibition hall opened at 19 rue du Chêne, just a stone's throw from the statue. We see the main outfits he has, the most emblematic too, but not the entire collection, it would require too much space.
Here are some examples of outfits that the Manneken Pis wore a day. In order, below, he is in uniform of the Brotherhood of the Pink Elephant, Burgomaster of the Lignages of Brussels, of Santa Claus and in clothes of Bulgarian.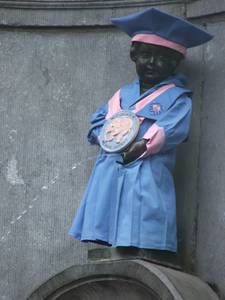 Manneken Pis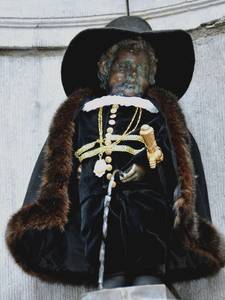 Manneken Pis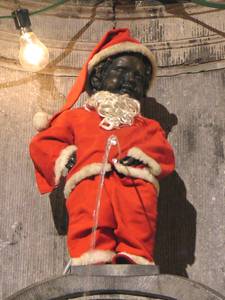 Manneken Pis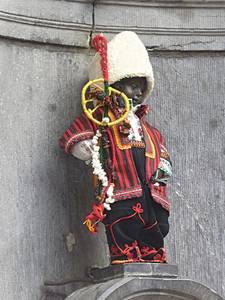 Manneken Pis
The outfits of the copies
Yes, there are many copies of Manneken Pis around the world. And if the original has the distinction of being regularly dressed, its replicas too, but not always, of course.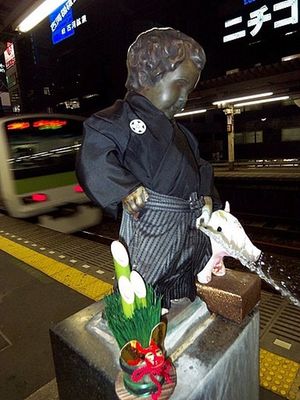 Manneken Pis at Tokyo
This is the case more readily official copies, those that were offered to a city, a region, an organization, to mark a bond of friendship with the city of Brussels. There are a dozen official copies, and they are often dressed. For example, that of Monaco is on the occasion of the festival of the city. A little further from Europe, there is a particularly neat Manneken Pis: That of Hamamatsucho Station in Tokyo. It is between lanes 3 and 4 and sits at the top of a small monument with integrated garden. This statue is regularly dressed, it is quite curious, by the way.