Rama I was the first king of the Chakri dynasty, he is the founder. The Chakri Dynasty is that of the kings of Thailand, begun in 1782 and still in place today. The kings of this dynasty all have the same royal name: Rama. Currently, the king of Thailand is Rama X.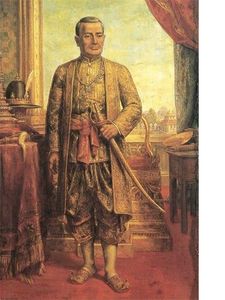 Rama I
Youth
The future King Rama I was born March 20, 1737 in the royal city of Ayutthaya, a city currently about sixty kilometers north of Bangkok. It was the capital of the ancient kingdom of Siam which occupied a territory similar to that of present-day Thailand. Rama I was born under the name of Thong Duang, his father was a noble of the ruling class, Phra Aksorn Sundara Smiantra.
Young, he educated himself in a Buddhist temple. Then he was sent as king's scholar. This experience made him side with Sin, future king Taksin, with whom he will bind very strong bonds of friendship.
His takeover
In 1767 the Burmese people, a neighboring people of the kingdom of Siam and eternal rival, attacked Atthuaya. After a series of military conquests the enemy army arrived on the city which was, geographically speaking, on a large island. Rather than attacking directly, he sieved it by preventing any entry and exit. Unfortunately for them King Taksin and his faithful friend managed to escape. The Burmese finally attacked, took Ayutthaya and assassinated the king, bringing down the previous dynasty definitively. They also destroyed much of the city.
Soon after Taksin moved to Thonburi, a town west of present-day Bangkok (which did not exist yet) and founded the kingdom of Thonburi. Thong Duang was appointed general and took the name of Chao Phraya Chakri. On behalf of his king he conquered Ventiana, the Burmese capital, and imposed the domination of Thais to the Burmese.
Becoming particularly powerful, the general made a coup, declared Taksin crazy and had him executed. He did the same with his son and became the new king, founding the Chakri lineage. He reigned all his life under the name of Rama I.
His reign
The reign of Rama I is characterized by the multiplication of facts reinforcing the idea of ​​Nation. He compiled the Ramakian, the Thai national narrative of which he himself wrote a part. He built a new capital, Bangkok, and a palace. For the unity of his people, he had a Buddhist temple built near his palace in which he had the famous Emerald Buddha, already considered sacred and that he had recovered himself from Ventian. He is also the author of legislation that is based on local law.
Militantly Rama I had to fight against the Burmese who tried twice to take Ayutthaya again, but without success. He sent an army to take territories to these bulky neighbors, which led to the extension of the territory of the Kingdom of Siam.
See also: