Gate of military prowess (Wuying men)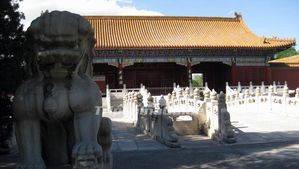 Gate of military prowess
The Gate of Military Prowess is the main building of the architectural ensemble to the west of the Hall of Supreme Harmony. Now it's the painting and calligraphy gallery. The side rooms are reserved for a gallery of books and archives.
During the Ming Dynasty (1368-1644) the hall of military prowess was the place where emperors received ministers. She was also one of the painters' studios for the Ming court. The end of the Ming Dynasty was provoked by a peasant rebellion that led to the burning of the imperial palace. Many buildings were destroyed, but not this pavilion which luckily remained intact. The gate of military prowess was where Li Zicheng (1606-1645), the peasant leader who brought down the Ming Dynasty, ascended the throne as a new emperor before he had to flee Beijing. After the Manchu regime reclaimed the throne and moved its capital to Beijing, this pavilion became the office for Dorgon (1612-1650), one of the four regents, for the treatment of state affairs.
At the beginning of the Qing Dynasty, the emperors also attended small ceremonies. It became an imperial cultural center during the reign of Kangxi (1662-1722), with in particular the establishment of a workshop for the modification, compilation and printing of books with carved wooden blocks.
See too:
Back to the list of the pavilions of the forbidden city