General information on the imperial garden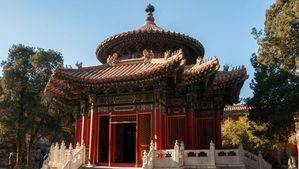 Imperial garden

The Imperial Garden is located after the gate of the Terrestrial Tranquility. Built in the dynasty Ming in 1417, ie to the construction of the Forbidden City, it is rectangular in shape of 130 x 90 m and covers approximately 12,000 square meters. It was a private refuge for the imperial family and it is perhaps the most typical example of Chinese garden design. It has about twenty buildings, each of a different style, and the ways in which they harmonize with trees, rock gardens, flower beds and sculptural objects such as bronze incense burners are of great harmony.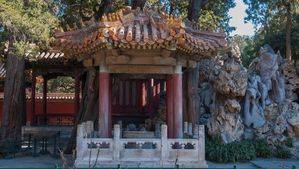 Imperial garden
At each of the four corners of the garden there is a pavilion. They symbolize the four seasons. The most famous one occupies the corner of the East. Built in 1535 and restored during the Qing Dynasty, it is the pavilion that symbolizes spring. In the north-east of the garden you can climb a small artificial hill, with a cave. It is dominated by the Imperial Vision Pavilion (Yujingyuan). Emperors rarely went up there. Visitors will find that the paths are paved with varied patterns made of colored pebbles, symbolizing luck and fortune. The more attentive visitor will find a group of images depicting wives punishing their husbands. It seems strange that these images are carved here, at a time when the male domination and especially the omnipotence of the emperor prevailed. At the northern end of the garden is Shenwumen, the Divine Power Gate, and the rear exit of the Forbidden City.
See too:
Back to the list of the pavilions of the forbidden city