Pavilion of ancestral worship (Fengxian dian)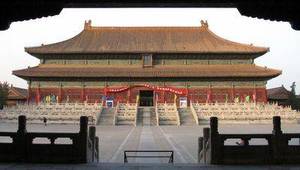 Pavilion of ancestral worship
The ancestor worship pavilion is in the eastern interior annexes, south of the 6 palaces. It nowadays hosts the gallery of clocks. Some European and American mechanical clocks collected by the imperial family of the Qing Dynasty, and those manufactured in Guangzhou, Suzhou and the Imperial Workshop are exhibited here.
Built in the early fifteenth century and renovated several times in the Qing Dynasty that followed, the hall has two sections arranged in the shape of an H, an entrance hall and a hall rear, connected by a covered connection corridor. The spiritual tablets of the imperial ancestors have been placed here.
Every year, on the first day of the lunar year, on the emperor's birthday, and at the winter solstice, the emperor paid tribute to his ancestors in this hall. If the emperor could not attend personally, he would send representatives.
See too:
Back to the list of the pavilions of the forbidden city