The pavilion of pleasant sounds (Changyinge)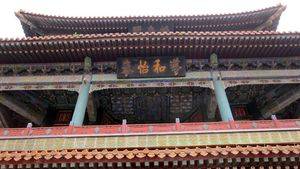 The pavilion of pleasant sounds

East of the Spirit Culture pavilion is the Pavilion of Pleasant Sounds (Changyinge). It also dates from the period of Emperor Qianlong, this pavilion having been built at the same time as its neighbors between 1772 and 1777. It is a theater, one of the particularity of which is to have a stage at 3 levels. So it's a tall building, though it's not that big. It is however the largest of the Forbidden City. It was restored in 1802 then in 1891, where it got its present appearance, under the reign of Jiaqing. The finishes of this building are quite successful, especially the eaves. The three levels were exploited by the actors thanks to an ingenious trap system which allowed them to go from one level to another very quickly. It is placed on a pedestal 1.2 meters high, all stone, and measures 20.71m high for a total area of ​​685.94 square meters. The upper part is called "scene of happiness" (Fulou), that of middle "stage of wealth" (Lulou) and that of low "scene of longevity" (Shoulou).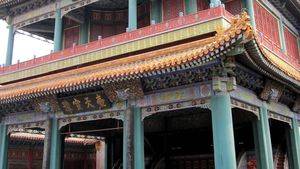 The pavilion of pleasant sounds
Comedy is universally appreciated in the world. The Chinese emperor doing a daily hobby. He went to see the plays played for him in the company of the Empress and the concubines, and went into the opposite building, which served as a lodge: The Opera House (Yueshilou). The themes discussed in the rooms of the Forbidden City involved Buddhist dignities against the Taoist immortals, in a permanent confrontation.
Nowadays this pavilion contains silk costumes, accessories (headdresses, weapons, banners ...) and the repertoires used by the imperial troupe. There are also drawings showing the ten days of festivities that followed the 60th anniversary of Qianlong and Cixi.
See too:
Back to the list of the pavilions of the forbidden city