Pavilion of the Middle Harmony (Zhonghedian)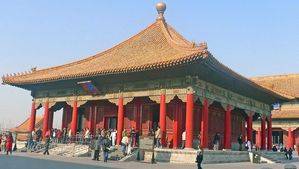 Pavilion of the Middle Harmony
It is located between the Palace of Supreme Harmony (Taihedian, in Chinese) in the South and the Room of Preserved Harmony (Baohedian, in Chinese) in the North. These three pavilions are known as the "Three Great Halls of the Outside Courtyard" and are located along an axis of symmetry of the Forbidden City, a North-South axis. This is the smallest of the three, it has only a floor area of ​​580 square meters. It is based on a square plan of 24.15m side. It has a unique roof whose golden pinnacle shines surprisingly in the sun. As the crow flies, the three palaces are arranged so as to please the Gods, who are supposed to watch the palace from above. Their different forms break the monotony and the dimensions of each are calculated to preserve the Chinese architectural style, which is the proof of the mastery of the architects.
Built in 1420 during the eighteenth year of Emperor Yongle's reign (1403-1424), this pavilion was named "Huagaidian" at the beginning of the Ming Dynasty (1368-1644). Under the reign of Emperor Jiajing (1522-1566), he was renamed "Zhongjidian" after his reconstruction. Ink marks of three Chinese characters (Zhong Ji Dian) can still be seen. After having undergone three fires, this pavilion takes its present appearance which corresponds to what it was to its construction in 1627, during the seventh year of Emperor Tianqi (1621-1627) of the Ming Dynasty (1368-1644) .
The interior of the room
This pavilion was the resting place of the emperor when he was organizing the ceremonies that took place in the hall of supreme harmony. It was a bit of a waiting room, before receiving his ministers or officials. Each year, before leaving for the important sacrificial rites at the Temple of Heaven, at the Temple of the Earth or elsewhere, he came here to prepare himself. It was here also that he verified the quality of the sowing that would be used at the altar of the God of Agriculture (Xiannongtan) during the ceremony in his honor, a ceremony that opened the plantation era. The gardening tools were also symbolically used during this ceremony.
Inside, visitors can see a pair of unicorns of gold standing on either side of the throne, which is in the center of course. Called "Luduan" in Chinese, unicorns are mythological animals capable, according to the Chinese, of speaking several languages ​​and traveling 9000 km in one day. It is of course for these abilities that they have been widely used in the statuary of the palace. They were also a symbol of the great wisdom and intelligence of the emperor. On the side are bronze censers used to make fire, to warm up. Beside the throne there are two sedan chairs used for the transport of the emperor in the Forbidden City. There were strict rules regarding the use and type of sedan chair that the emperor was to take.
Photos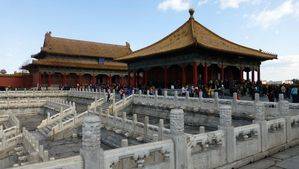 Pavilion of the Middle Harmony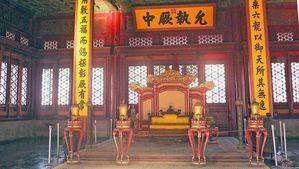 The throne of the middle harmony
See too:
Back to the list of the pavilions of the forbidden city