Pavilion of the military prowess (Wuying dian)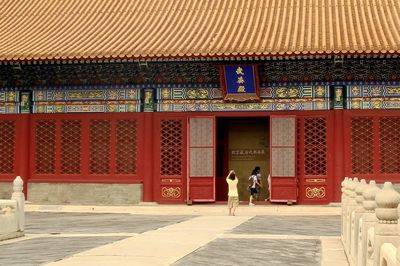 Pavilion of the military prowess
The Military Prowess Pavilion is the main pavilion of the Western Outbuildings. Nowadays it contains the Gallery of Chinese paintings and calligraphy. The side rooms are reserved for depositing books and storing archives.
In the Ming Dynasty (1368-1644), this pavilion was the place where emperors received ministers. It is also one of the studios for painters. At the end of the Ming Dynasty, rebel peasant troops burst into the imperial palace and burned several buildings. Intact, the hall of military prowess was the place where Li Zicheng (1606-1645), the leader of the peasant rebellion, ascended the throne as a new emperor before fleeing quickly from Beijing. After the Qing, the new masters of China (of Manchu origin) moved their capitals to Beijing, this pavilion became the office of Dorgon (1612-1650), one of the four regents, to manage the affairs of China. 'State.
At the beginning of the Qing Dynasty, the emperors also attended ceremonies of modest sizes here. During Kangxi's reign (1662-1722), the Military Prowess Pavilion became an Imperial Cultural Center - a workshop for the modification, compilation and printing of books with carved wooden blocks. The books printed here have been marked with the official edition status "Hall Edition".
See too:
Back to the list of the pavilions of the forbidden city