Wall of the 9 dragons (Jiulong bi)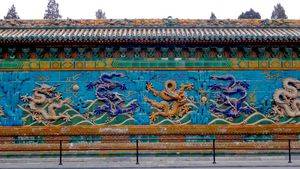 Wall of the 9 dragons
On the south wall of the Imperial Perfection Gate stands a wall named "the wall of the nine dragons", which is the largest and best preserved of the three famous walls of the Nine Dragons of China. Oriented to the north, it measures 29.40 m long and 3.50 m high. It was built in 1772 under the reign of Emperor Qianlong, the entire scene on the wall depicts nine moving dragons playing with pearls on a scenery of sea and cloud. Made in high relief, the dragons were painted yellow, blue, white and purple. Yet one of them, in the center, is yellow and purple, and yellow being the royal color it could not be joined to another.
The wall is composed of 270 glazed tiles. The number 270 can be divided by two and five nine. Nine is the largest odd number, while five is in the middle of odd numbers. In ancient China the figures nine and five symbolized the supremacy of the emperor. It is said that the center of the third white dragon was broken when baking in the oven, which was the death assured for the artists compromised in this work. Despite the risk, a carpenter volunteered to replace the original with wood and made the sculpture and painting overnight. Thanks to his talents and his courage he saved the sculptors. Nowadays we can still find traces of this repair on the third dragon, from the left.
There are only three similar works in China: In addition to this one there is one in Beihai Park and another in Datong, Shanxi
Origin
This wall dates from 1774 and was built during the 38th year of the reign of Emperor Qianlong. Let us remember that it was this emperor who built the palace bearing his name in the north-east corner of the forbidden city.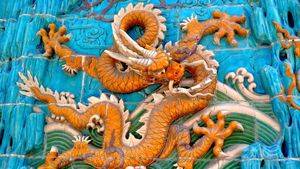 Wall of the 9 dragons
See too:
Back to the list of the pavilions of the forbidden city