The first cinematographic screening in India took place in Bombay on 7 July 1896. It was about six silent films shot by the Lumière brothers. Harishchandra Bhatvadekar shot the first two Indian films in 1899. The first major Indian film was made in 1913 by Dada Saheb Phalke.

The cinema began to truly become an industry from the 1920s. There were more and more directors and more and more production houses.

On March 14, 1931 Ardershir Irani made the first speaking film. The 1930s saw the development of cinema in the regional language and that of a "social" cinema demanding. The first international film festival was held in Bombay in 1952. The Indian cinema experienced a small revolution in the 1970s, when the film was filmed in the 1940s (Roti de Mehbood, Neecha Nagar by Chetan Anand, Kalpana by Uday Shanker ...) the arrival of Satyajit Ray. He is the first Indian director to have received an international award. It was the Grand Prix of the documentary at the festival of Cannes in 1956 for Pather Pachali. Ray was the leader of directors inspired by the neorealism of European cinema. We can quote Ritwik Ghatak and Mrinal Sen. Ray dominated Indian cinema until the 1970s.

The 1960s were rather dull years. Films were mostly filmed to meet the demands of the public at the expense of quality. We can still mention some very good works like Gunga Jamna by Dilip Kumar, Bandini by Bimal Roy, Love in Tokyo by Pramod Chakravorthy, and so on.

The 1970s saw the development of popular cinema and especially musicals. The scenarios were, and still are, built on the themes of love and vengeance. Cinematographic production was not the prerogative of the north. The South also gave big names to the Indian cinema (Balu Mahendra, Jayakantan, T.S. Ranga, P. Lankesh ...) In 1989 the director Mira Nair received the Camera d'or at the Cannes festival for Salaam Bombay.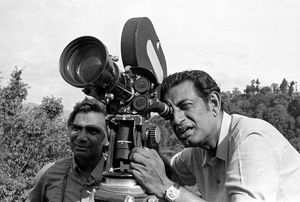 Satyajit Ray
Today more than 600 films are produced each year for more than 5 billion admissions. Much of the production is shot in Bombay in the studios of "Bollywood." Unfortunately most of these films are inexportable because of the very special genre of Indian cinema. Moreover, very few films (about 5%) are truly profitable. For the last 10 years, there has been a decline in production (India produced 950 films in 1990). The public seems increasingly difficult to satisfy, especially as the arrival of satellite television has multiplied the offer.
The share of foreign films represents about 5% of the broadcast but the threat of Hollywood is increasingly felt. For now, the distribution of "english films" remains reserved for large cities as the rural population remains indifferent to Hollywood special effects.
The Indian film industry seems determined to rationalize production. Do better, in smaller quantities and for less. A necessary shift is that the Indian state does not subsidize the cinema.
See also: