The classical Indian literature is constituted by texts written in Sanskrit during antiquity. The vedas (sacred texts of the Brahmans) are the oldest (between -2000 and -1000 BC)

The stories were written in epic poems (Mahabharata, Ramayana). But literature has developed little because, traditionally, the stories were transmitted orally from generation to generation and were not systematically laid down on paper.

Literature, like all the Indian arts, has flourished much with the arrival of Muslims in the north of India.

It was the British who introduced modern literature into Indian culture. Printing has enabled the emergence of writers of regional languages. But English quickly spread to the whole country and soon served as a vector for the teaching of the upper classes and for the literary expression notably thanks to the work of Rammohan Ray. From the nineteenth century onwards, Indian writers became internationally known.

The first major novels in English were written at the beginning of the 20th century by Romesh Chunder Dutt. In 1913 the poet Rabindranath Tagore was awarded the Nobel Prize for Literature. There have been many English-speaking Indian poets. The most famous are Dom Moraes, Nlissim Zekiel, A.K. Ramanujan, Kamala Das. Mulk Raj Anand marked the first half of the century with novels dealing with the problem of classes and castes (The coolie, Untouchable, The big heart ...).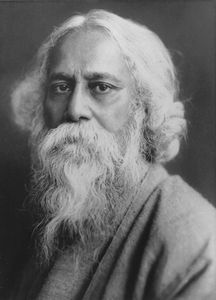 Rabindranath Tagore
In the 1940s the independence movement led to the emergence of an abundant political and social literature. Among the most important authors of this kind are Bal Gangadhar Tilak, Lala Lajpat Rai, Kasturi Ranga Iyengar and of course Gandhi and Nehru. R.K. Narayan (The Guide, The Vendor of Sweets, etc.) was one of the first writers to be widely read outside of India in the 1960s.
With only four novels, Raja Rao was undoubtedly the one who best described his country. Other famous authors include: Vikram Seth, Upamanyu Chatterji, Kamala Markandeya, Arundhati Roy, etc.
See also: