Indira Priyadashini Gandhi was born on 19 November 1917 in Allahabad, Uttar Pradesh. She is the daughter of Jawaharlal Nehru. When she was 2 years old, her father became involved in the struggle for India's independence alongside Gandhi. His parents are imprisoned several times by the British and these events will have a considerable influence on the young Indira.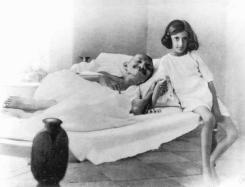 While she was only 11 years old she created the Monkey Brigade. This group of children had the task of supervising the police and distributing independence tracts. A student in Pune, Indira often visits Gandhi in his prison.
At 17 years the girl leaves for England and Switzerland to continue her schooling. In 1936 his mother died in Switzerland. Indira returned to India only in 1938 to finish his studies there. She enrolled in the Congress Party and met Feroze Gandhi, who became her husband in 1942.
From their union two sons will be born: Rajiv and Sanjay.
On 11 September 1942, shortly after their marriage, Indira and Feroze were imprisoned for eight months in Allahabad because of their independence activities. This will be Indira's only prison stay.
On 15 August 1947 India became independent and Jawaharlal Nehru was appointed Prime Minister. At the request of his widowed father, Indira appeared at his side during the travels and official representations.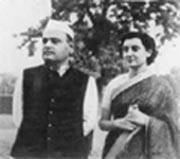 Although in the shadow of her father, she gained influence and took the lead of various organizations.
In 1960 her husband, whom she had separated for some years, died. Then her father disappeared in 1964. She became Minister of Information and Communications of the Shastri government. When the latter died of a heart attack in 1966, Indira Gandhi was appointed to the head of the Congress Party and won the elections the following year. However, she must deal with the right wing of her party, which does not fail to pose many problems and provokes in her the birth of a certain paranoia. These difficulties do not prevent it from taking India on the path of industrial and agricultural modernization (space and nuclear program, green revolution, etc.) and to obtain several military victories against Pakistan, especially during the creation of the Bangladesh in 1971.
His party won the 1971 elections with overwhelming ease. But voters are quickly disappointed by broken promises, rampant corruption and unpopular measures. Numerous strikes and demonstrations broke out in 1973 and Indira Gandhi's opponents complained about corruption and electoral fraud. In 1975 the Supreme Court of Allahabad withheld the charges against her and ordered her to resign and sentenced her to 6 years of ineligibility.

Persuaded of being the target of a conspiracy, Indira Gandhi refuses and decrees the state of emergency on June 25, 1975. It makes imprison its opponents and censure the press. His son Sanjay took the opportunity to set up a program of forced sterilization to limit the population increase.
In early 1977, convinced of its popularity, it organized legislative elections but was severely beaten and dismissed from power. In 1978 she formed the Congress Party (I) - I for Indira. Her son Sanjay became his principal advisor and in 1980 she returned to power after the victory of her party.
The year 1980 is also marked by the disappearance of Sanjay in a plane crash. Barely elected, Indira Gandhi has to face many problems related to the separatist claims of certain states of India, notably in Punjab. This state gathers the majority of the Sikhs living in India. For four years Jarnail Singh Bindranwale, their leader, will not cease to harass the central power by claiming the creation of a Sikh state.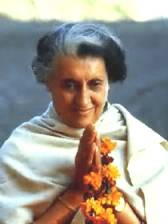 In June 1984, Indira Gandhi ordered the assault of the Golden Temple, the Sikh sanctuary in Amritsar, where Bindranwale and his most fierce supporters took refuge. It was Operation Bluestar. More than 600 separatists, including Bindranwale, are killed and the temple is damaged. This stroke radiates the hatred of the Sikhs towards Indira Gandhi.
On 31 October 1984, two of the nearest guards of the Sikh Corps of Indira Gandhi, whom she had not wanted to separate, felled her in the gardens of her residence. This assassination blazes the north of India. Sikhs are chased and sometimes lynched. The riots caused the death of a thousand people before the return to calm.
It is Rajiv Gandhi who will succeed his mother at the head of India.
Indira Gandhi will have a lasting impact on India's political and economic life, for good reasons because it has enabled India to support itself and become a real regional power, but also for the wrong reasons because it has often abused his power and never fought against corruption.
See also: