The tower of the wardrobe is now largely ruined, it still exists, but there is only the walls of a circular tower, of modest size. It dates from the 12th century, built under Richard Coeur-de-Lion by its regent William Longchamp, bishop of Ely. It is located in the inner courtyard of the Tower of London, near the White Tower.
This court was for the use of the king. If it bears that name it is that it contained, initially, the personal effects of the king, including his arms. Little by little, this tower was associated with all that belonged to the king and was to be preserved, and it was thus that the Privy wardrobe, an institution charged with watching over the king's properties, was created. This institution, together with the "chamber", formed the two parts of the English medieval government.
Of course the "privy wardrobe" evolved with time. Originally in charge of the management of the king's personal property, he became his deputy head. This institution had its seat in the wardrobe tower, at least since 1454. In the sixteenth century it moved its seat inside the courtyard of the white tower, which at the time was restricted to the part South of this tower. There were indeed a few buildings which formed a sort of inner rampart forming an even smaller courtyard.
The wardrobe tower was no longer used, and it fell into disrepair just like the ancient Roman wall it adjoins. When archaeological research was carried out on this tower, it was discovered that it was partially on the wall of the ancient Roman city of Londinium.
Location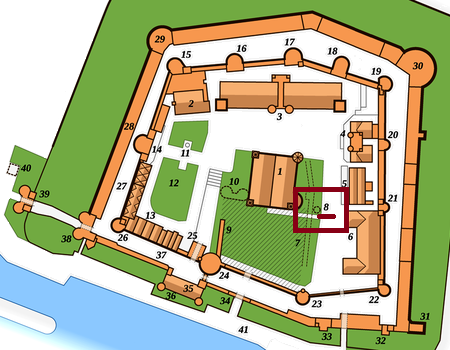 See also:
The map of the tower of London with the list of the buildings