The Tower of London is the main fortress of the British capital, located on the banks of the Thames. Built at the end of the eleventh century and modified twice during the following centuries, it reached us in a very good state of preservation as it was at the end of this second wave of modifications. The tower of London is, above all, a large keep, the white tower, the Waterloo barracks which nowadays contain the famous jewels of the crown, and two rows of ramparts bristling with towers.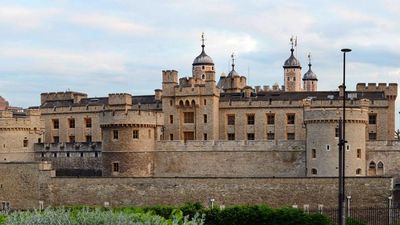 Tower of London
General Form
The whole of the Tower of London is 4.9 hectares, it forms an irregular hexagon included in a rectangle of 240m by 210, plus an advanced double-turn that controls the entrance. The whole citadel is surrounded by a large ditch which has been drained, with a thick first rampart (except the south side, where it is finer) and a second rampart equipped with towers. Inside this double enclosure is the main building, the dungeon (here called the white tower because of the color of the decorations), the Waterloo barracks containing the crown jewelry room, the quarter general of the fusilliers which houses a museum, the royal chapel and other lesser-known buildings: the hospital, the workshops, the Queen's apartments, etc.
Protections
The Tower of London is a fortress hard to take. It has moats, two concentric walls and numerous protection towers.
On the north side the outer rampart has only two massive towers (20m in diameter, about), one at each angle. They are called Legge Mounts (in the West) and Brass (in the East). On the west side there are no towers except the Byward tower which controls the entrance, and of course the middle towers which are in front of the entrance. The south side faces the Thames, protected by the St. Thomas Tower and two smaller ones, the Cradle Tower and the Well Tower. Finally on the west side the only protection tower is to the south, it is the Develin tower.
On the other hand, if the outer wall has only a few towers, the inner ramparts have much more, especially on the north side. They are all connected by a walkway that can be taken today to visit all the fortifications.
Otherwise the Tower of London has other protections:
the drawbridges, between the middle towers and the tower of the berroi,
the white hole, a massive dungeon,
the protection zone beyond the moat, still a military zone prohibited to the public
The various buildings
As it is a fortress, there are a large number of buildings to the Tower of London, the main being probably the keep. Here is the list of the main places to know, with a link for each of them to their description.