The Colosseum is the name of a Roman amphitheater dating back to antiquity, built under the reigns of the emperors Vespasian and Titus, then modified by Domitian. It is sometimes called the Flavian amphitheater, its current name is a derivative of the adjective 'colossal', which is one of these characteristics. The Colosseum is the biggest building of Roman antiquity and is now in the center of Rome, making it the most visited monument in Rome.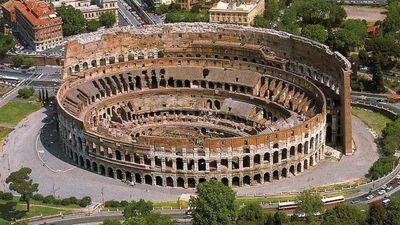 Colosseum
The Colosseum is really impressive if one approaches it, but it must be acknowledged that it is in sad state. It is necessary to relativize because many other ancient buildings are in ruins, them, and it is still standing, but it is far from complete. Among the main destructions, it should be noted that a large part of the exterior facade has fallen, as well as the arena itself. The basements of the arena still exist but are in the open, strongly degraded. Finally, a part of the bleachers disappeared, as were the mats that supported the sun protection fabric.
But despite these destructions, the Colosseum remains an imposing building that can be imagined without difficulty in its entirety since it is of approximately circular shape, and that it is only a part of the facade that no longer exists. It is enough to imagine it with the totality of the facade in place, as well as with the arena to know how it was at the origin.
The amphitheater was a performance hall, that is to say that the people who went there spent their day watching different shows. Most often, the Romans were entertained before:
Fighting gladiators,
Hunting wild animals,
Reconstructions of naval battles,
Reconstructions of rural or forest spaces,
Presentations of works of art,
Executions of executioners.
These types of shows were presented in different orders, without any protocols. Of course, naval battles, known as naumachies, forbade the use of the arena to present a forest, but this arena was above all seen as a vast space that could be used at leisure: trees, temporarily, allowed wild animals to hide.