The question of what the size of a monument is can be viewed from different angles. Depending on the type of monument the dimensions that we will compare vary. For example, for monuments such as the Statue of Liberty or the Eiffel Tower, we will mainly talk about height. But for the Colosseum of Rome, it will be rather of width. Or more exactly, diameter. For a monument like the presidents of Mount Rushmore, we are talking about surface.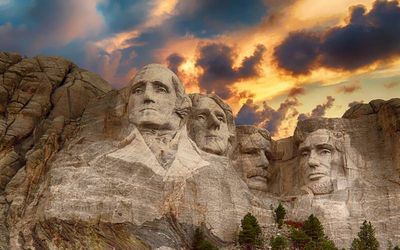 Mount Rushmore
In itself the monument is not that big.
It is 62m long, in a straight line, from the beginning of George Washington's face (on the left) to the end of Theodore Roosevelt's (on the right). The faces are 18m high. It's a beautiful panorama, but if we cannot consider this sculpture as flat ...
The whole site is not that big. All inclusive, it measures approximately 700m long by 300 wide. There are car parks, tourist facilities with shops, the esplanade, and all the space separating all this from the sculpture. We even include the small path that winds along the mountain and approaches the faces. We are here on a tourist site of rather modest size compared to other monuments in the world.
Dimensions
| | |
| --- | --- |
| Face height | 18m |
| Width of faces | 62m |