Mount Rushmore, iconic landmark of the United States, is far from the best known of the country. Of course, a lot of people know him and know what he means, that is, to highlight American history and power, but few know more, such as the names of the characters engraved or the place where he lives. is located.

So let's go to the discovery of Mount Rushmore, a simple but impressive monument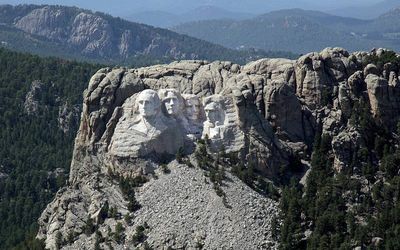 Mount Rushmore
Where is he?
First and foremost, let's set the scene: Mount Rushmore is a monumental sculpture carved on a mountain of the Blacks Hills, an area of rugged terrain in which this rather elongated mount is located, with prominent ridges: Mount Rushmore, named after a famous passionate South Dakota history lawyer. Because it is in South Dakota that it is, a state in the North West of the United States, in the grounds.
Learn more about the location of Mount Rushmore.
How tall is he ?
It is really big, but not excessive either. The mountain remains very impressive compared to the carved faces, seen from afar. It would have been much bigger if it had been finished: The sculptor had planned to do also the busts of the presidents, in particular that of Georges Washington who would have occupied all the mountain part under him. In fact, the whole face of Mount Rushmore is about 60m wide, and each face is 18m high.
Learn more about the size of Mount Rushmore.
Anecdotes
There are some fun stories on Mount Rushmore. This site compiles some , to read on the page of the anecdotes of Mount Rushmore.
Pictures!
This site also presents some pictures of Mount Rushmore. A way to discover this monument from various angles.
Discover the pictures of Mount Rushmore.
And all the rest ?
Want to discover the history of Mount Rushore ? It's this way ! You have the chance to go there, or you just want to know how to get there? It's over there ! . But Mount Rushmore is also, and above all, a huge symbol of American power. Find out why through the symbols of Mount Rushmore.
And if you want to see all the pages of this website, go to the site map !