The Mount Rushmore National Memorial is located in South Dakota, a state in the north-central United States. Specifically, it is on the Keystone territory in Pennington County.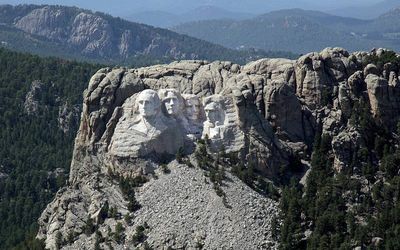 Mount Rushmore
Keystone a tiny town of 337 inhabitants (in 2010) whose motto is "Home of the Mount Rushmore", which could be translated as "the homeland of Mount Rushmore". The motto clearly links the city to the monument. It is southwestern South Dakota, a state whose capital is Sioux Falls. The nearest big city is Rapid City, about forty kilometers to the North.
To get there, you have to go to Sioux Falls, then use a light vehicle, which is most convenient. Regular bus lines also exist but are impractical. Otherwise, from the main cities of the region there are organized excursions to the visit of the memorial, you will find easily everywhere.
Learn more about visiting Mount Rushmore.
Maps


Map of the world

From a general point of view Mount Rushmore is on the North American continent, to be more precise in the United States. Let's go down to see him a little closer.


North America

Mount Rushmore is in the northwestern United States.


South Dakota

South Dakota is a state in the northwestern United States.


South Dakota Region

In South Dakota, Mount Rushmore is more to the west of the state, in a very mountainous area


Near

Closer to the ground, the road is very winding. In fact it is relatively narrow and passes to the bottom of the various valleys of the Blacks Hills.


Facilities Mount Rushmore

Mount Rushmore installation.
Google Earth
If you have the Google Earth software , click on this link or open it by double-clicking it, once downloaded: It will indicate the exact location of the monument: Google Earth link.
Choice of the site
One may legitimately wonder why the Black Hills mountains were chosen while the site is still rather far from the major American centers of interest. The answer requires contextualizing the creation of the project.
In fact, when the idea for the memorial came to ahead of Doane Robinson, a learned lawyer and historian at times, it found that the mountains he knew, in his South Dakota, would very well to the realization of this sculpture. One should not look further for the general choice of the site, the monument is in the Black Hills of South Dakota simply because its designer was from that state, and he knew them well. He never imagined that it could be carved in another state, far from its origins. As for the exact location, it was chosen based on a few specific criteria, the first of which was the structure of the rock. It required a rock that was not friable without being of solid strength, having the proper general shape, and oriented preferably towards the East. The initial site that was chosen did not meet these criteria, the sculptor proposed another site that suited him better, the one that we know today.