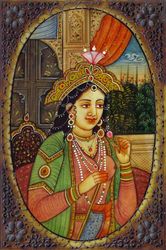 Mumtaz Mahal
Biographie
Mumtaz Mahal was a princess from the Persian nobility. She was the daughter of Abdul Hasan Asaf Khan. She was born in Agra in 1593 and met the future young Mughal emperor while he was still Prince Khurram. The latter, falling under the spell of its beauty, was quickly engaged in 1607. It must be said that the chroniclers of the time tells us that it was a couple in perfect harmony, very much in love with one another. the other. The wedding was celebrated in 1612, 5 years later. From there began one of the greatest love story we know, the popularity of Taj Mahal requires. Although she was one of Shah Jahan's three wives (already married twice previously), she was his favorite. He even gave her the name Mumtaz Mahal, which means "The jewel of the palace".
Throughout her short life Mumtaz Mahal was very close to her husband. She was his trusted companion and traveled with him throughout the Mughal Empire, which was not the case with the two other wives, Akbarabadi Mahal and Kandahari Mahal, with whom the emperor had simpler, less passionate relationships. . It is thought, moreover, that she had a great influence on political power, holding an unofficial adviser's role, and secretly enjoying the warlike fights of the Empire's combatants.
In 1630 Mumtaz Mahal accompanied Shah Jahan who was fighting during a military campaign on the Deccan plateau. She did not know it would be her last trip. She died on June 17, 1631, giving birth to her 14th child, and was buried in Burhanpur at the place of her death. But this tomb was temporary, it was what decided Shah Jahan who decided, ravaged by the sorrow, to build to his wife a mausoleum as beautiful as was his love for her. He put 22 years to this task and partially ruined the treasure of the Mughals, but the case was up to his expectations. The Taj Mahal was born.
See also: