If you were to create an Indian restaurant in France, what would you call it? Probably not "New Delhi" or "Bombay", there is a good chance that you choose the "Taj Mahal", which is one of the most famous wonders of the world and is an iconic landmark of the India, with, in addition, a strong sentimental connotation. Well know that you would not be the only one to choose this name since there are 95 establishments that bear this name, most of them being restaurants. There are still two beauty salons named so, which is original but not abnormal, and that's it.

The following study is not a serious job, it is just an analysis of the results given by pagesjaunes.fr, the reference site in the search for telephone number. I searched for all the establishments bearing the name of Taj Mahal and classified them.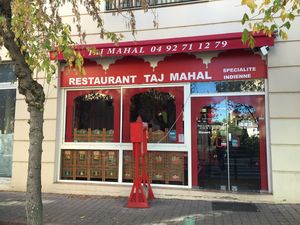 Restaurant 'Le Taj Mahal', at Manosque
First surprise, there is less than I thought. I thought that every medium-sized town had at least one Indian restaurant and, knowing that the majority are Taj Mahal, I was expecting to find many. This is not the case, many cities with more than 100,000 inhabitants have none. After some research I found that I was more mistaken about the name than the fact that there are no such restaurants in these cities, there are, but they have other names. I overestimated the evocative power of the Taj Mahal ... Another surprise, there are no two restaurants named "The Taj Mahal" in the same city, with the exception of Nantes and Bordeaux. If I did not expect to find many, I thought that it would happen in Paris, Lyon, Marseille, etc. And third surprise, the big cities of France do not necessarily, and when they have, so it's just one, as in Paris, Toulouse or Nice.
Most of these restaurants are in medium-sized cities or in the suburbs of larger cities, with few in the provinces and smaller cities. But it's really the exception. When it comes to geographical distribution, several regions simply do not have one, this is the case for the overseas regions (with the notable exception of Réunion), Corsica and Limousin. It is surprising that there is none in Mayotte because like Reunion, this island is close to India, which has increased the population of Indian origin and therefore should, mathematically, increase the number of restaurants Indian on the spot. There must be other factors that come into play and I do not control, not being there. If the geographical distribution of Indian restaurants named "Taj Mahal" follows approximately that of the density of the population. The more people there are, the more chance of finding such a restaurant. It is therefore the Ile-de-France that counts the most (28), followed by Rhones-Alpes, and PACA (7), then come Franche-Comté and Pays de la Loire (5 each), other regions with between 4 and 0.
What good can this study serve?
Well not much, it must be said. Since this website explains everything about the Taj Mahal, why not do some statistics on French restaurants named as well? After that, it really does not have any other interest, except that to have fun to learn perfectly useless things that will allow you to shine in society.
You should also know that these data come from the site pagesjaunes.fr, which is not necessarily a guarantee of completeness, even if we can imagine that it provides a fairly complete list, and especially that the study was made in 2016 and has not been refreshed since, so this is not a list on which to base to find your Indian restaurant. There are indeed risks that the one you choose is closed. And then, it would be to ignore the other Indian restaurants in your place of residence, which would be a shame for them. It is not because this site deals with Taj Mahal that it must ignore other restaurants ...
List of restaurants named "Taj Mahal"
Here is the list of Indian restaurants named "Taj Mahal", or a similar name in relation to the monument, list restricted to France (metropolitan and overseas), with their addresses. Be careful, this list is a kind of photography made in early 2016, it is not intended to be updated. It is classified by region.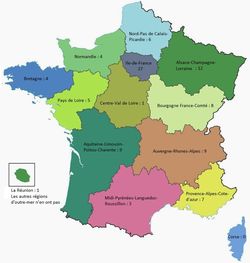 Establishments named Taj Mahal
Alsace-Champagne-Ardennes-Lorraine : 12
20 rue Principale, 67300 Schiltigheim
13 rue Sinne, 68100 Mulhouse
1 place de la Couronne, 55000 Bar-le-Duc
1 Place de l'Homme de Fer, 67000 Strasbourg
151 rue Vesle, 51100 Reims
11 rue Méhul, 08600 Givet
14 rue du Lieutenant Loyer, 51000 Chalons-en-Champagne
13 rue de Turennes, 10000 Troyes
16 rue des Jardins, 57000 Metz
Cellule 6 rue du Bois Coulange, 57360 Amneville
2321 route de Colmar, 88400 Xonrupt Longemer
5 place Jules Méline, 88200 Remiremont
Aquitaine-Limousin-Poitou-Charente : 9
10 avenue de la Gare, 64200 Biarritz
46 rue Henri Faisan, 64000 Pau
24 rue du Parlement Ste Catherine, 33000 Bordeaux
26 place du Palais, 33000 Bordeaux
3 place Notre Dame, 86100 Chatellerault
126 rue Gambetta, 17200 Royan
Restaurant Indien Taj-Mahal
1 rue Plumejeau, 16100 Cognac
25 rue Basse, 79000 Niort
Taj Mahal SARL (Import-Export)
30 rue Delescluzes, 87000 Limoges
Auvergne-Rhones-Alpes : 8
Le Taj (Institut de beauté)
5 rue du Maréchal Foch, 63000 Clermont-Ferrand
20 Grande Rue, 74160 St Julien en Genevois
13 avenue du Rhône, 74000 Annecy
5 rue Dormoy, 42000 St Etienne
174 rue Cuvier, 69006 Lyon
80 rue Taillées, 38400 St Martin d'Heres
45 boulevard Charcot, 73100 Tresserve
44 route de Genas, 69680 Chassieu
Bourgogne-Franche-Comté : 8
8 rue Bouhier, 21000 Dijon
Restaurant Indien Le Taj Mahal
264 quai Jean Jaurès, 71000 Macon
15 aenuev Jean Jaurès, 71100 Chalon-sur-Saone
11 rue St Michel, 25500 Morteau
240 route de Besançon, 39000 Lons-de-Saulnier
29 rue Thiers, 90000 Belfort
11 rue Salengro, 70000 Vesoul
9 rue Claude Pouillet, 25000 Besançon
Bretagne
31 rue Mur, 29600 Morlaix
17 boulevard Franchet d'Esperey, 56100 Lorient
70 rue Pinterie, 35300 Fougères
1 rue Alfred Le Ray, 29900 Concarneau
Centre-Val de Loire : 1
154 rue de Bourgogne, 45000 Orléans
Normandie : 4
23 rue Jean de La Fontaine, 76600 Le Havre
26 rue Tournante, 27400 Louviers
Le Taj Mahal (Institut de beauté)
11 rue Guilbert, 14000 Caen
Ile-de-France
29 chemin de Montmorency, 95190 Goussainville
15 rue du Mont Valérien, 92150 Suresnes
24 rue Gabriel Péri, 92700 Colombes
177 avenue Jean Lolive, 93500 Pantin
78 avenue 8 Mai 1945, 93150 Le Blanc Mesnil
1 avenue Thiers, 77000 Melun
14 rue Henri Rivière, 78200 Mantes-la-Jolie
3 places des Victoires, 92600 Asnières-sur-Seine
80 avenue Jean Jaurès, 91230 Montgeron
14 av du Général de Gaulle, 92170 Vanves
10 rue Pierre aux Poissons, 95300 Pontoise
17 rue Pasteur, 91800 Brunoy
216 rue de Paris, 93100 Montreuil
61 rue Vouillé, 75015 Paris
25 rue Val, 77160 Provins
3 place Charost, 78000 Versailles
77 passage Brady, 75010 Paris
39 boulevard de la République, 77420 Champs-sur-Marne
112 boulevard Gabriel Péri, 92240 Malakoff
1 rue Arago, 92800 Puteaux
103 avenue François Mitterrand, 91200 Athis-Mons
3 rue de la Garenne, Place Gabriel Péri, 92310 sèvres
15 rue du Général De Gaulle, 78120 Rambouillet
19 avenue Lenine, 93380 Pierrefitte-sur-Seine
20 avenue Roger Salengro, 94500 Champigny-sur-Marne
16 avenue Jean Jaurès, 77177 Brou-sur-Chantereine
MSL Taj Mahal Bâtiment (Construction de maisons individuelles)
Bâtiment 44, 5 rue Duranti, 75011 Paris
Restaurant Sara Taj Mahal
3 Place des Touleuses, 95000 Cergy
Midi-Pyrénées-Languedoc-Roussillon
24 r Palaprat, 31000 Toulouse
62 rue de la Liberté, 11000 Carcassonne
8 bd Strasbourg, 34500 Béziers
Nord-Pas de Calais-Picardie : 6
4 rue des Augustins, 59800 Lille
Restaurant Indien Taj Mahal
88 rue Faidherbe, 62200 Boulogne-sur-mer
94 bd François Mitterrand, 59240 Dunkerque
4 rue Noyon, 60200 Compiègne
24 place du Général Leclerc, 60600 Clermont
8 rur de la Sous-Préfecture, 02100 St Quentin
Pays de la Loire : 5
130 rue St Jacques, 44200 Nantes
3 rue des Vieilles Douves, 44000 Nantes
20 rue Cornet, 72000 Le Mans
9 rue Garnier, 53200 Chateau Gontier, Bazouges
38 rue Nationale, 49300 Cholet
PACA
rue du Tribunal, 04100 Manosque
37 rue de la Préfecture, 06300 Nice
32 avenue de la Palmeraie, 06220 Vallauris
route Départementale 113, 13170 Les Pennes Mirabeau
Zone Commercial Plan De Campagne 543 lieu-dit Le Petit Péage, 13240 Septemes les Vallons
13 rue Castillon, 83000 Toulon
113 rue Ste Cécile, 13005 Marseille
Réunion
12 rue Pasteur, 97400 St Denis
See also: