The Mostar Bridge is not particularly impressive, at least it is not its size that gives it its reputation, unlike other bridges known for their gigantism: the Golden Gate or the viaduct of Millau for example. No, what makes the Mostar Bridge interesting is its harmony, its beauty, its history and its symbolism.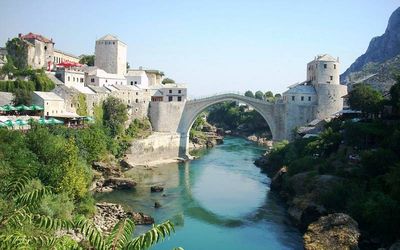 Stari Most
We can consider the bridge from two angles: Either we consider that it is only a bridge, and in this case its dimensions are rather modest, either by preferring to consider the fortified whole composing the two towers East and West, the road that connects them and the bridge. In this case, this medieval complex keeping the passage is more important.
Bridge measurements
The bridge is 27m long, for a distance of 29m (as it goes up and down a little). It is 4m wide and passes 29m above the water when the river, Neretva, is at its maximum.
The fortified complex
If we consider the bridge and its two towers, it is much larger: 90m long, for a set of - very - approximately 1300m2 of floor space.