The Helebija Tower is a large, tall, high tower guarding the western entrance to Stari Most, the famous bridge in Mostar. Emblem of Bosnia and Herzegovina, it is also a symbol of friendship between peoples.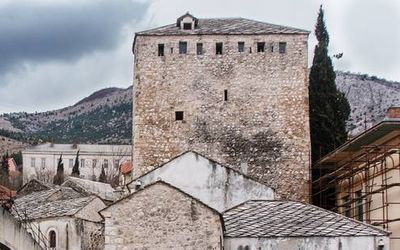 The Helebija tower
The Hélébija tower is impressive. Massive, stocky, it imposes respect. It was built for this purpose since it was supposed to keep access to the bridge. It has very thick walls and few windows, a bit like a dungeon. His current roof is classic.
It was built at the end of the 17th century, at the same time as the Tara tower facing it, on the other side of the Neretva. The Tara tower was built on the ruins of an old 11th century fortified town. For the Hélébija tower , we do not know, but it would be surprising that at that time a second fortress was built to guard this passage.