The Tara Tower is the fortification on the left bank of the Neretva, the river that runs through Mostar. It keeps access from the old bridge of Mostar by the east side, the Bosnian neighborhood, strongly Muslim.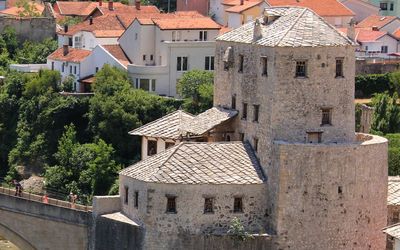 The Tara tower
Its history
This tower was built during the 17th century, exactly in 1676, a century after the construction of the bridge. She was at the same time as her counterpart , the Helebija tower , on the other side. She came e replace another tower of the eleventh century we already called the Tara kula. Almost never remodeled but regularly maintained, it retains its original aspect nowadays. For a long time it served as ammunition depot, its thick walls being the guarantors of the neighborhood security.
However, it was severely degraded during the 1991 war, during which the bridge was destroyed. It is also the day of its destruction, on November 9, 1993, that the tower Tara undergoes its strongest degradation. Once the war was over, the Tara Tower had lost its roof, some of its floors, and its walls were heavily cracked. It was largely restored during the reconstruction of the bridge and nowadays houses the Mostar Museum which describes the history of this bridge.
Description
This tower is relatively simple and has nothing special, remarkable. It is a massive, massive, rectangular building with the long side facing the bridge. Some windows brighten the facade, but there is no flourish. The roof, gently sloping, is purely functional. It has 4 floors, which gives an idea of its height.
There are several pieces of architecture that complement it, forming a stronghold: First a semicircular advance that faces the bank. Heavy, massive, this small wall protects access to the tower. A small building has been attached, just as old as the tower. On the other hand, two other light buildings are noticed on the South side by their different styles. They have half-timbered facades, as sometimes on the houses of Mostar.
From its top we have a beautiful view of the old town of Mostar.
The museum
The Tara tower contains the bridge museum. It occupies the entire area of the tower Tara, so it is a large museum, in terms of exhibition space.
It is entirely devoted to the history of the Old Bridge. Many videos present his past, his destruction (1993) and his reconstruction (2001-2004). On the ground floor there is the bookshop of the Islamic Cultural Center.
Learn more about its schedule, its address