Wonders of Western architecture of the sixteenth century, the Mostar Bridge is above all a symbol of the rapprochement between the communities of the former Yugoslavia. This bridge, destroyed during the Balkan war in 1993, was rebuilt identically between 2001 and 2004. It is the centerpiece of local tourism and as such attracts a large number of curious daily.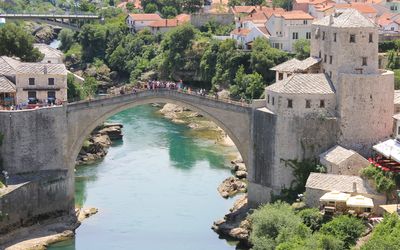 Stari Most
Local name, etymology
His name is Stari Most, which means ... The "Mostar Bridge". Nothing original in its name, but a functional name, useful. Historically, it is a mistake. It is not the bridge that should be called "the bridge of Mostar" but the city that should be called "The city of the bridge". Indeed, the city was created around the bridge, from the sixteenth century, and has not stopped growing since. So it was he who spawned the city, not the need for communication in the city that led to the construction of the bridge.
Symbolism
In the collective imagination the old bridge of Mostar is the symbol of friendship between peoples. It acquired this status by the fact that, before its destruction, in the early 1990s, it made it possible to connect the Bosnian and Muslim neighborhoods of the old city to newer, Croatian and Serbian, Christian and Orthodox neighborhoods. Mixing was important and no one, on the spot and at the time, could have imagined that this spirit of multicultural cohesion could be eliminated.
Nobody, but a war yes, since it was precisely to separate the communities that the bridge was destroyed on November 9, 1993. And after the war, after its reconstruction, the social structure of the city had radically changed, making the bridge useless since communities do not mix anymore, in Mostar.
By the disappearance of the mix in Mostar the bridge has become a simple work of art, certainly very beautiful, but just a work of art that connects two neighborhoods in the city center. It is no longer this link that united the three Serb, Croatian and Bosnian populations living in peace in this city.
Learn more about the symbolism of the Mostar Bridge
Curiosities: The diving contest
The young people of the city have always come to the bridge to dive in the Neretva. It is a dangerous exercise that is not without danger. Accidents are frequent.
But in recent years a company, Red Bull, is promoting it by organizing a multi-stage diving contest. One of them is now in Mostar. This has turned a simple local tradition into an international rendezvous in the very particular field of extreme diving.
Learn more about the diving competition held in Mostar