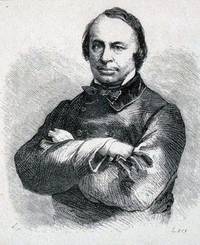 Edouard de Laboulaye
First years
Its full name Édouard René Lefebvre de Laboulaye, Édouard Laboulaye was born January 18, 1811 in Paris by Auguste Lefebvre de Laboulaye (1779-1824), manager of the granting of Paris, Knight of the Legion of Honour. He grew up in a wealthy family in the capital, then he studied law and left the education system with a license. During her early professional years is depth in characters, an employment held by her brother Charles, print maker and president of the Circle of the library. He wrote the first book to be successful, a story of Constantine's right to the present day and which earned him honors from the Academy of Inscriptions and Belles Lettres, academy that will integrate 17 January 1944, at 33 years only. The following year he traveled in Europe and is interested in German law as well as history. In 1849 he became professor of comparative law at the College de France and became interested in the US, a recent State. Very soon he will find a vision of liberty with which he agrees and then will constantly enforce it in her country.
His commitment
From 1850 he teaches courses on American law, it is one of the first to do so, enrolling in the wake of the discovery of this country started movement from the 30s and which was characterized by the publication regular books on the United States by referring authors. He took up the case against slavery, denouncing its practice (he was president of a rally in support of the American freed slaves in Paris in January 1865), but in doing so he went back to the authoritarian government second empire. It starts to blow hot and cold to avoid being impeached. He abandoned her courses on the American constitutional system and chose a major in religious history, more in line with the expectations of the leaders. So he could keep her job, but during her classes he advocated equality of religions and the separation of Church and State, themes opposed to the government of Napoleon III. When the government began to falter he published a satirical book, Prince Poodle, a social satire which also had success. In 1855 he founded the "history of French and Foreign Law Review", and publishes more often articles in the press, becoming known gradually.
These past years have shaped her character. Initially shy, he became a true orator, able to attract attention just by its presence. It is heard in the country. Her convictions make him a respected man. It is an austere natural, quiet. He regularly publishes notes in the "Journal of Debates" and other texts in the press. He gets a great popular success with her book "Paris in America," published in 1863 under the name "Dr. René Lefebvre." This book was reprinted 43 times, including eight times in English. This is a pamphleteer, philosophical novel in praise of Liberty whose story is of great quality. This period is marked by its struggles for equality in education, with spearheading the repeal of the state monopoly on Education.
In 1865 he organized a dinner in her country house in the company of various Republicans. It was at the end of this meal was launched the idea of a gift from France to the United States, the genesis of the construction of the Statue of Liberty.
MP
His political career really began in 1863, when he appeared for the first time for deputies, unfortunately for him without success, as was also the case in 1866, 1869, 1870 and 1871. That year he received support the Parisian Press Union and was elected to the complementary elections of 8 July. He became a leader of the center left to which he brings her libertarian convictions. It is supported by the people, rather hostile to the firmness of the government of the day. In 1873 he was elected director of the College de France, a position he held until her death ten years later, May 25, 1883. He has never seen the Statue of Liberty over, a work for which he has worked.
Private life
Edouard de Laboulaye was married twice, first in 1832 at the age of 21, a union made with Augusta Virginia Paradise and that will generate a son, Paulin, born in 1832. He was later ambassador to France in Madrid and in St. Petersburg. Nine years later, in 1841, he became a widower and remarried Alexandrine Louise Valerie Michelin-Tronsson du Coudray.