If you stay a few days in New York there are chances that you want to visit other monuments. In that case, why not take a "pass" entitling you to discounts? There are two kinds of pass. The "New York City Pass" is for the tourists coming the first time in New York, it gives access to six emblematic sites considered essential in the city. The "New York Pass", it is more general, it provides access to a plethora of more or less interest. So it is preferred by those who deepen the discovery of the city, going to museums less frequented for example.
New-York City Passes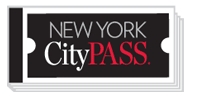 Aside from a few cuts offered by this pass, her interest lies also by the attentions offered to visitors. Most of the time they have cut-files, which is far from negligible, especially in case of big crowds. Then museums and observatories offer free audio tour in your language. This is the choice that will make those who intend to see some of these tourist centers.
The 6 sites "New York City Pass" are:

Observatory Empire State Building
This observatory is one of the most interesting of the city as it is laid out for the crowd of tourists. It will offer you a splendid view of the skyscrapers, and in addition it offers a night tour. You will be at the 86th floor of the tower, at 320m high, and you will have an audio tour, which will detail the different observed points.

American Museum of Natural History
A must in terms of natural history, with 45 exhibition halls presenting among other blue whale 28m long and some dinosaurs. There is also space cinema Hayden Planetarium which offers technically advanced films. Sensations guaranteed!

The Metropolitan Museum of Art
This is also a great museum in the world. You will discover numerous works of art covering a period from prehistory to the present, in the field of sculpture, painting, arts and popular traditions in a little brief all areas of art.

MoMA (Museum of Modern Art)
New York Museum of Modern Art, it contains among other paintings by Andy Warhol and Vincent Van Gogh. It also contains many works in other media such as photographs, films, etc.

Top of the Rock or Guggenheim museum
You need to do a choice between : The first is the observatory Rockefeller center, huge art deco building competing in the Empire State Building. The observatory is arranged in 3 floors, with interior or exterior view. The Guggenheim Museum, in addition to being a building with amazing architecture, contains paintings by Picasso, Van Gogh, Kandinsky, etc.

The Statue of Liberty and Ellis Island or Circle Line Cruises
Regarding the Statue of Liberty is explained on this site. The cruise, it is a boat by 4 trips, full turn to sensation seeking in speed-boat, embedded guides will explain in detail the skyline of the city.
New-York Pass
The "New York Pass" is a prepaid card that allows entry to nearly 80 attractions in the city. This is the best way to visit New York if you want to dig a little town. It is also a constraint, as it takes much more New York pass time for that. This card therefore better suit those who already know New York and who will not make the 6 websites of its competitor, although it is possible to go with it.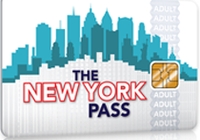 Like its rival, the New York Pass offers cutting-files, which is handy when busy. It is delivered with a guide of 200 pages providing all relevant information to purchasers, as well as business advice. You can have it delivered anywhere in the world, so you can buy it in advance and receive it from you, and you too will have a central reservation to save time. A final vantage point, if you combine this pass with subscription city bus, you can save up to $ 60 more. Here is the list of visitable locations with this card, with the prices normally applied in 2014.
| | |
| --- | --- |
| 9/11 Tribute Center | $15.00 |
| American Museum of Natural History | $22.00 |
| Atlantic City Excursion on Academy Bus | $38.00 |
| Blazing Saddles | $39.00 |
| Brooklyn Botanic Garden | $10.00 |
| Brooklyn Bridge Sightseeing Bike Tours and Rentals | $45.00 |
| Brooklyn Children's Museum | $9.00 |
| Brooklyn Historical Society | $6.00 |
| Brooklyn Museum | $12.00 |
| Carnegie Hall Tours | $10.00 |
| Central Park Bicycle Rentals Tours | $49.00 |
| Central Park Sightseeing Bike Tours and Rentals | $45.00 |
| Circle Line Downtown | $30.00 |
| Circle Line Sightseeing Cruises | $40.00 |
| CitySightseeing Cruises | $29.00 |
| Clipper City Tall Ship Cruises Manhattan By Sail | $39.00 |
| Discovery Times Square | $27.00 |
| Dwyer Cultural Center | $5.00 |
| Dyckman Farmhouse Museum | $1.00 |
| El Museo del Barrio | $9.00 |
| Empire State Building Observation Deck | $29.00 |
| Fashion Windows Walking Tour | $34.99 |
| FDNY Fire Zone | $6.00 |
| Food on Foot Tours | $49.00 |
| Fraunces Tavern | $7.00 |
| Grand Central Terminal Audio Tour | $8.00 |
| Greenwich Village Tour | $35.00 |
| Hallelujah! Gospel Wednesday | $25.00 |
| Harlem One Stop Cultural Heritage Walking and Step-On Group Tour Packages | $25.00 |
| Highline-Chelsea-Meatpacking Tour | $35.00 |
| Historic Richmond Town | $8.00 |
| Inside Broadway Tours | $35.00 |
| Intrepid Sea, Air Space Museum | $24.00 |
| Jewish Children's Museum | $13.00 |
| Luna Park @ Coney Island | $32.00 |
| Madame Tussauds New York | $36.00 |
| Madison Square Garden, All Access Tour | $26.95 |
| MoMA PS1 | $10.00 |
| Morris-Jumel Mansion | $5.00 |
| Museum at Eldridge St. | $10.00 |
| Museum of American Finance | $8.00 |
| Museum of Biblical Art (MOBIA) | $0.00 |
| Museum of Jewish Heritage – A Living Memorial to the Holocaust | $12.00 |
| Museum of Modern Art (MoMA) | $25.00 |
| Museum of the City of New York | $10.00 |
| NBC Studio Tour | $24.00 |
| New Museum | $16.00 |
| New York Botanical Garden | $25.00 |
| New York Hall of Science | $11.00 |
| New York Historical Society | $18.00 |
| New York Insider's Shopping Tour | $35.00 |
| New York Skyride | $42.00 |
| New York Transit Museum | $7.00 |
| New York Water Taxi | $30.00 |
| Noble Maritime Collection | $5.00 |
| NYC Gospel Walking Tour | $45.00 |
| On Location Tours Central Park TV and Movie Sites | $24.50 |
| On Location Tours UPTOWN New York TV and Movie Sites | $33.00 |
| Queens Museum of Art | $8.00 |
| Radio City Music Hall Stage Door Tour | $24.45 |
| Rockefeller Center Tour | $17.00 |
| Shearwater Classic Schooner – Manhattan by Sail | $45.00 |
| Slavery and Underground Railroad Tour | $35.00 |
| SoHo-­Little Italy-­Chinatown Walking Tour | $35.00 |
| Solomon R. Guggenheim Museum | $22.00 |
| Staten Island Botanical Garden | $5.00 |
| Staten Island Children's Museum | $6.00 |
| Statue of Liberty Harbor Cruise | $18.00 |
| The Brooklyn Bridge and DUMBO neighborhood tour | $35.00 |
| The Cathedral of St. John the Divine | $6.00 |
| The Cloisters Museum and Gardens | $25.00 |
| The Metropolitan Museum of Art | $25.00 |
| The Museum of Sex | $17.50 |
| The New York City Police Museum | $5.00 |
| The Paley Center for Media | $10.00 |
| The Skyscraper Museum | $5.00 |
| The Studio Museum in Harlem | $7.00 |
| Top of the Rock | $29.00 |
| Tour at Lincoln Center | $18.00 |
| Van Cortlandt House Museum | $4.00 |
| Visit Bronx Renaissance | $35.00 |
| Wall Street Walks | $25.00 |
| Wave Hill | $8.00 |
| Weeksville Heritage Center | $5.00 |
| Whitney Museum of American Art | $20.00 |
| Yankee Stadium Tours | $25.00 |