Former country of the USSR, we do not expect to find replicas of the Statue of Liberty in Belarus. Yet there is at least one, in a city with an unpronounceable name ...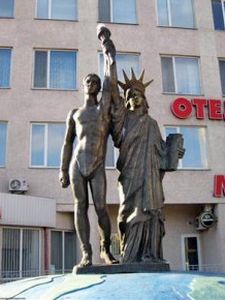 Replica of Dneprodzerzhinsk
Dneprodzerzhinsk
In Belarus, the city of Dneprodzerzhinsk (yes ...) conceived a grandiose monument, taking a lot of floor space. It involves the Statue of Liberty and Prometheus, côteet by side on top of a partial globe which forms a monument of nearly 15m wide. It is a work rather invasive. The Statue of Liberty is not well made, unfortunately: The tablet is worn too low, and it has only 5 spoke to the crown which has to count 7, normally. We feel that the artist wanted to get more symbol than making an exact copy.
See also:
Copies of the statue of Liberty in the world