Small country, Denmark has on its territory at least one statuS Scandinavian countries have almost all a few replicas of the Statue of Liberty on their territories, Finland has at least one of Liberty.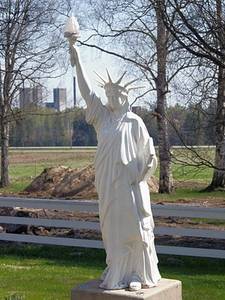 Replica of Koskenkorva
Koskenkorva
This reproduction of the Statue of Liberty in the dazzling white is in the village of Koskekorva in Western Finland (Ilmajoki). It was in this village that is the factory Jari Mäki Inc. which manufactures equipment for American cars. They also make the service, still in the market for American motorists. This proximity to the New World pushed them to settle in the factory park this replica of a pretty good fidelity. Note, however, the poor performance of the tablet, too bent down, and no broken chains of slavery, which is fairly standard in the reproductions. And of course, the bulb replacing the famous torch is one of the glaring errors, but we can not blame them for that. This statue has virtually no pedestal, it is placed on a small concrete pad, simply.
See also:
Copies of the statue of Liberty in the world