At first, few replicas of the Statue of Liberty are in Germany. And yet history has bequeathed to us, some of which have disappeared today.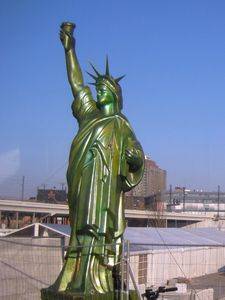 Replica of Berlin
Berlin
Very nice replica of the Statue of Liberty, this copy is plastic bright green which gives it a real aspect oxidized copper. Hard to say where exactly this statue, except that it is in Berlin, and is rather recent. You still have to emphasize the fact that it is stylized, ie it has not as detailed as other replicas. For example, the torch is a simple cylinder. Unfortunately she lost two rays of her crown.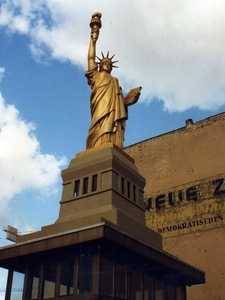 Replica of Berlin
Berlin
This beautiful statue of liberty no longer exists, it has been a time to Checkpoint Charlie in Berlin, where she was still in 1996. Checkpoint Charlie was the passage between Eastern Europe and 'Western Europe in the time of the Cold War. The presence of this statue was a symbolic value even more than elsewhere. From a technical perspective, this copy is really well made, it perfectly copies the folds of the gown, wearing the tablet, and even the torch is very well imitated. The base, it is simpler but it worked enough to recall the original base, neo-classical style.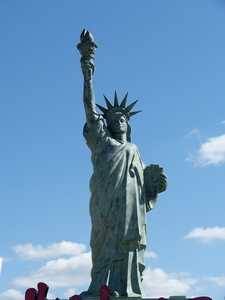 Replica of Wasserburg
Wasserburg
This statue of nearly 10 feet high is located in a parking lot used car. The statue can be seen at any time, although it is private land access is free. To find your way, right after, there McDonald.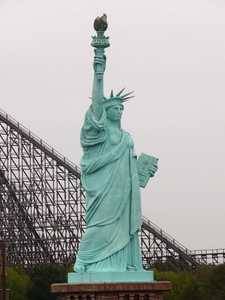 Replica of Heide Park
Heide Park, Soltau
This is in Soltau, in Lower Saxony, lies Heide Park, the largest amusement park in Germany in size. In the center there is an artificial lake and its banks, a huge statue of Liberty, which was brought here by crane. It was mounted in several times. Its size is half that of the original statue is 23m high, making it the largest replica built to date. Mounted on a special pedestal, reaching the total size of 35m. It is concrete projected on a polyester shell, all on a metal frame. When it opened in 1986 the amusement park received a telegram from Ronald Reagan, the US president in office at that time, on the Announcement of the feat that made the erection of such a statue Europe. All still weighs a total of 28 tonnes.
See also:
Copies of the statue of Liberty in the world