Now a political friend of the United States, and that for quite a few decades, it is not surprising to find copies of the Statue of Liberty in Japan. There are some, scattered in the big cities.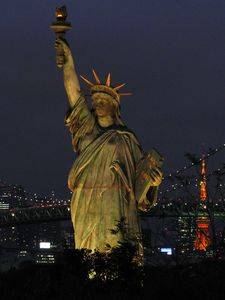 Replica of Tokyo
Tokyo
Japan 3 Statues of Liberty are listed. The largest is on the artificial island of Tokyo Bay. It is here that stands a statue in Odaiba. It is also the most famous of Japan. It is particularly well done.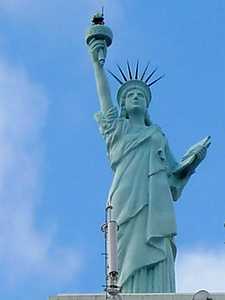 Réplique d'Osaka
Osaka
Another statue is recorded in Japan in the city of Osaka. It overlooks the shopping center "New American Plaza". It is well seen but can not be detailed because it is too far for that.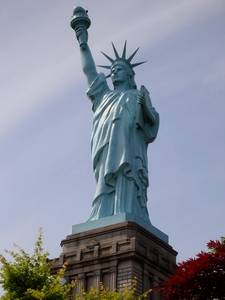 Réplique of Aomori
Aomori
Aomori is a city in northern Japan, near the Misawa Air Base. There is there a very well maintained park, very large, the Ichou Park, which hosts a replica of the Statue of Liberty, stand included. This is a high quality replica, despite some errors, the torch is not required right. It is a very large since it 11.5 meters high, is the same size as the island of swans, in Paris, which became the model for Bartholdi for the construction of the original statue. When night falls the light turns on, giving the park a very pleasant atmosphere. Note that this statue has exactly the same latitude as the statue of New York, 40 '40' 'North.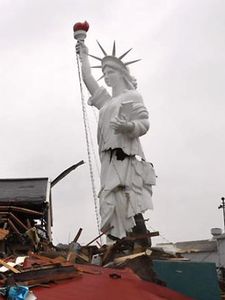 Réplique of Ishinomaki
Ishinomaki
This copy was heavily damaged before 2014 in Ishinomaki, Miyagi prefecture, Japan. Its so pitiful state is due to the tsunami in March 2014 on the east coast. Given the state of the area, and particularly of the house pictured, the fact that the statue was destroyed completely anecdotal. Damage, however, because the statue was original, she had a childish face and held her tablet arm, not your hand.
See also:
Copies of the statue of Liberty in the world