Neighbor of the United States, there is no doubt that there is at least one replica of the Statue of Liberty in Mexico, just as there are many in Canada. This is the case, indeed.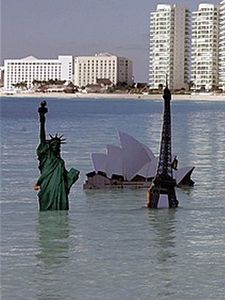 Replica of Cancun
Cancun
This photo shows a szene implemented by the environmental group Greenpeace, it aimed to highlight the dangers of rising sea levels due to global warming. The great monuments of the world have been reproduced, sinking into the ocean. This temporary stage was made on Gaviota Azul beach in Cancun, Mexico, in December 2010. Gaviota Azul Beach is a very popular tourist destination.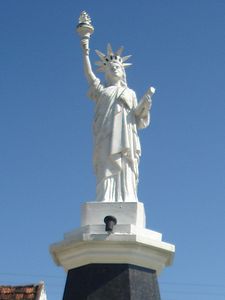 Replica of Palizada
Palizada
In Mexico the visitor can see several replicas of the Statue of Liberty. In the state of Campeche, it is in the small town of Palizada That There is this famous replica perfectly enhancement through a majestic stand. White in color, it is still not consistent, the purpose of quality development icts still worth seeing.
See also:
Copies of the statue of Liberty in the world