Myanmar, usually called Burma, is quite different from the idea of Freedom. But perhaps it is only because we do not know this country well. Still, at least one copy of the Statue of Liberty exists in the capital at the entrance of a hotel.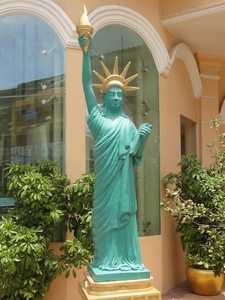 Replica of Phnom-Penh
Phnom-Penh
Even Burma has a Statue of Liberty! Yet this country is not known to be close to the US, but everything is explained when we know that this is an advertising sign placed at the hotel entrance "New York," the one of the many hotels Phnomh Penh center case. It is a few blocks from the Mekong along the main avenue. The statue is 2m high, it is bright green. If we observe closely we see that it has a little slit eyes ... But perhaps it is only an impression.
See also:
Copies of the statue of Liberty in the world