Sweden is one of the Scandinavian countries, is like the other countries of this region of the globe, it owns some statues of Liberty. The most surprising is that of the fountain, to discover below.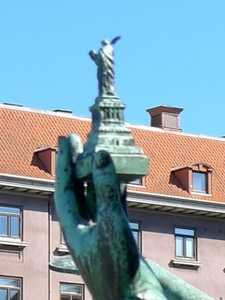 Replica of Gothemburg
Gothemburg
In the city of Gothemburg, Sweden, who has good eyes can see a reproduction of the Statue of Liberty. Why does it have good eyes? Because it is the smallest reproduction identified this site! It is on the main fountain of the city, a beautiful basin decorated with 5 characters holding in their hands the historical landmarks of reproductions of the 5 continents. For America, this is the Statue of Liberty was chosen, hence its presence in small size in Sweden.
See also:
Copies of the statue of Liberty in the world