Thailand, a tourist country, does not hesitate to flatter its visitors by displaying the main characteristics of their countries. No wonder finding replicas of the Statue of Liberty on the spot.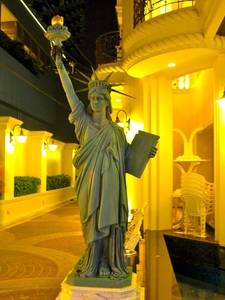 Replica of Pattaya
Pattaya
Pattaya is a seaside resort in Thailand, one of the largest in the country, it is relatively close to the capital Bangkok. In this cosmopolitan coastal city, which attracts like a magnet to many nationalities, with the influx of tourists impressive, it is not so unusual that it find a replica of the Statue of Liberty. This is before a Thai restaurant enough class, Gulliver's restaurant on Beach Road, just north of the bay of Pattaya. There are several restaurants in the area where it is located. This statue is of great delicacy, but it is not as long as it is beautiful: In fact, if these traits are precise, impeccable drape, nothing in this statue is not true to the original: From torch in too great clearance down the too short toga, the tablet abnormal size to her departing rays in all directions except it takes, her face missed her too small crown, nothing comes save the statue of an aesthetic point of view. Nevermind no broken chains of slavery, missing as on most reproductions, but let's look a few seconds on the base, which merit. It is the same style as the original base, without the star shape, but lower, which is not surprising given that otherwise it would have been too high. In conclusion, this statue is unattractive, but the design techniques could make it beautiful.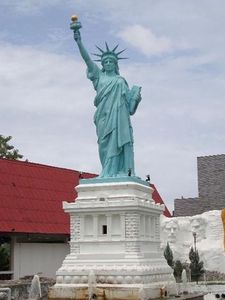 Replica of Pattaya
Pattaya
By studying the list of replicas of the Statue of Liberty in the World, we are surprised by the amount of theme parks showing replicas of monuments of the World. This is in Pattaya, Thailand. It shows a very well-made replica. Malhaureusement plastic, it is of great fidelity to the original statue with rays of buoyant crown (this is rare), a port of the proper tablet and a replica of the torch that seems perfect. It is perched on a white base not unlike the original, but it lacks a bit of height. This park is called Mini Siam.
See also:
Copies of the statue of Liberty in the world