Do you want the Moaïs, really? Good luck !

And yes, if you really want to see one, you'd better go to a museum, because going there is not easy…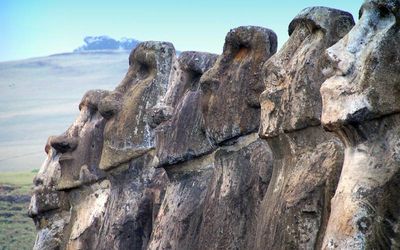 The statues of Easter Island
But if you want to go there, then you will have to fly from Santiago de Chile (one flight per day) or Tahiti (one flight per week) You will land at Mataveri International Airport . The island is very sparsely populated, but since tourism has been developing slowly since 1967, it still has good tourist infrastructure, including hotels. It is of course advisable to have booked your accommodation before going on site. A tour-operator is a pretty good idea, given the complexity of the trip and the administrative constraints you may encounter.
Know also that you will not be alone: the island receives about 80 000 visitors a year, more than 200 per day.
To do on Easter Island
Of course, the main activity is to discover the Moaïs. Several are easily visible, following the only paved road of the island, then taking the tracks. Some are more isolated in nature and are not meant to be seen by tourists, because there can be dangers (falls, various injuries) The career of Rano-Raraku , which is the main quarry of the Moais, is an interesting visit goal since we discover many statues being cut, abandoned at various stages of completion. Some are even completely finished but have never been transported to their sites.
Among the other activities that the island has, there is the inevitable local museum, the Anthropological Museum Père Sébastien Englert, to discover. It is home to a rounded belly female Moai and many vestiges of the Polynesian civilization of origin.
Dive sites are also very popular because the water is known to be of particular clarity.
There is also the discovery of the local way of life, which will be easy for those who have easy contact, and walks in the hilly landscape. Do not miss either, the walks around the three volcanoes, they are not so high that it and not only allow to see these geographical curiosities up close, but also to admire the island of a culminating point. As it is not very big, it can be seen entirely.
The Moaïs in museums
Of the nearly 400 Moaïs that were made on Easter Island, about ten were exported. Three of them are in France. There are two at the Louvre Museum, one at the musée du quai Branly. In London you will have to go to the British museum in London. New York has one, it is at the Museum of Natural History. Brussels, Washington are also cities where we can see Moaïs.
Otherwise there are also in Chile of course: Santiago, Viña del Mar and La Serena.