The seven wonders of the Ancient World are monuments that have been selected for their size, beauty, and importance in the civilization that built it. The ancient world is limited to the Mediterranean rim and Asia Minor, so the map shows only this region. There are three geographical zones: In the North, 5 wonders are in Greece and Turkey, in the South two are in Egypt and in the East, one is in Iraq.
Then one can ask the question: Why are there so many wonders concentrated in the Greek empire? The answer is quite simple, it is simply because it was during this empire that the list was adopted almost definitively, the Greeks simply attributed the beautiful role by inserting as many monuments, leaving to the other civilizations the minimum. Only the gardens of Babylon and the pyramid of Cheops were not part of the Greek Empire, the first being in Persian and the second in Egypt. But if the statue of Zeus was in the heart of Olympia, the other wonders of the world were in the empire: The Turkish coast had been colonized, the island of Rhodes was also part of the empire and coastal Egypt was under the governorate of the empire, also. Besides, it was there that Alexander the Great built his city and his tomb. This explains why on the 7 wonders, 5 are in the Greek Empire.
Moreover, since they were constructed at very different times, one can not see an archaeological continuity between them. On the contrary, they are very different from one another, both in their representations and in their meanings. Here is a map to locate them.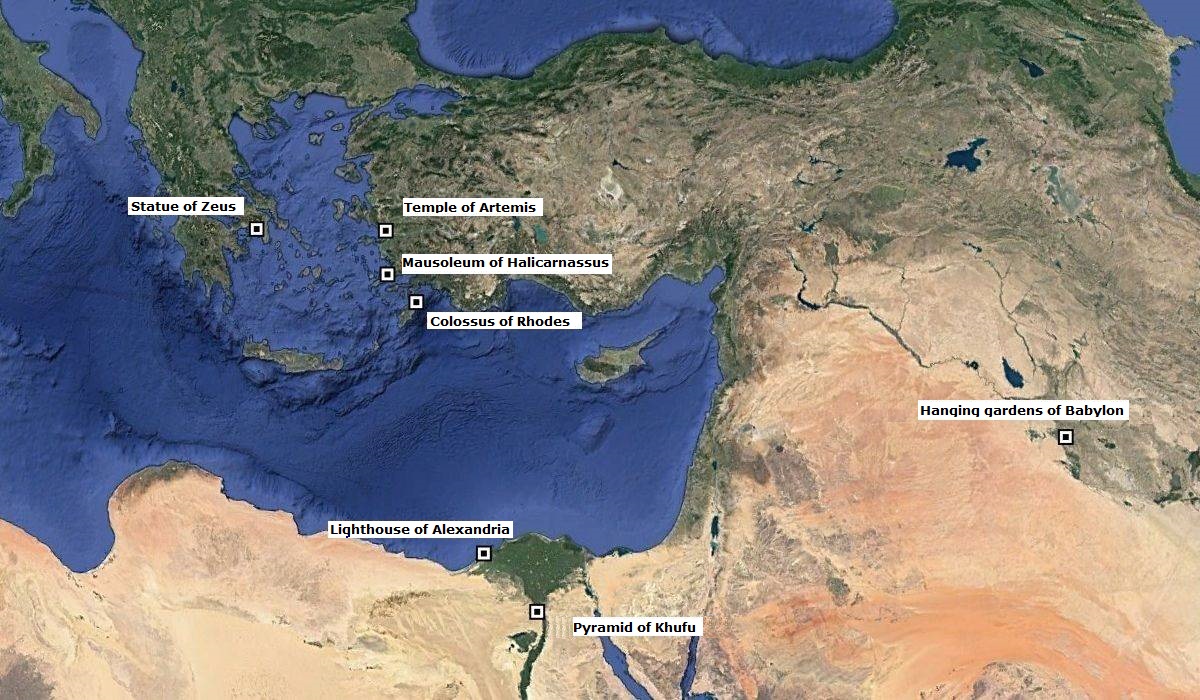 Each of these wonders has been identified, nowadays they have either disappeared permanently, or they are in a state of ruin. A doubt subsists on the very existence of one of them, the gardens of Babylon, the only one of those marvels to have neither direct testimony nor archaeological traces. But their locations place them in the city of Babylon, Iraq.
See also:
FAQ on the 7 wonders of the world