Maarten van Heemskerck was a Dutch painter, portraitist and specialist of historical paintings. He lived in the Netherlands in the 16th century (birth in 1498 in Heemskerk, dies on 1 October 1574 in Haarlem), a product of the Antwerp school, which produced many renowned artists.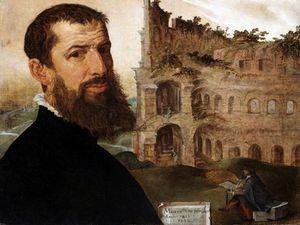 self-portrait
If Van Heemskerck is interesting here it is that he painted in 1572, two years before his death, a series of paintings depicting the seven wonders of the World. If this work had already been done previously, a little at all times, his work made him famous by the quality of the line and the confidence he displayed in the execution of the characters. This series of paintings is characterized by a plethora of details that make each work complex and interpretable at different levels. He voluntarily multiplies the characters they show more willingly in the full work of construction of each monument, at the moment of their end so that the latter is well shown. Each engraving - because it is about engraving - possesses a certain emotional force, with in particular mythological characters in full reflection that calls the contemplator to reflect on the meaning of human life.
La série des 7 merveilles du Monde

Pyramid of Gizeh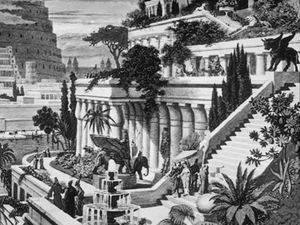 Gardens of Babylon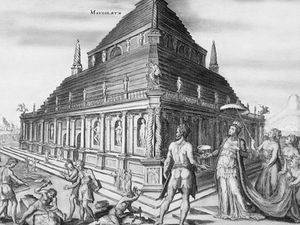 Mausoleum of Halicarnassus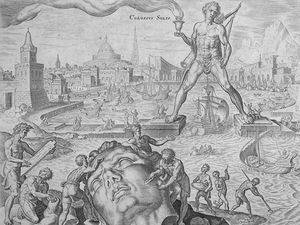 Colossus of Rhodes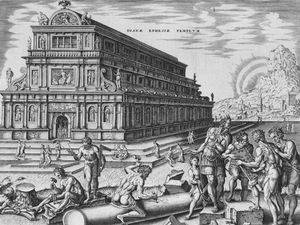 Temple of Artemis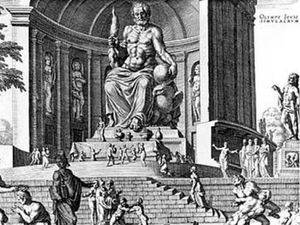 Statue of Zeus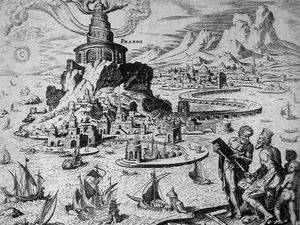 Lighthouse of Alexandria
The artist's aim was to offer the most accurate representation of the monument, but even if one imagined that he could do only one interpretation, it was probably less documented than he thought. His engravings show monuments very far from reality, the archaeological and documentary work that is done for more than a century proves it. His representation of the pyramid of Giza is pictured, with a much sharper point than normal, his colossus of Rhodes is much bigger than the size he really had (a little over 30m) and it did not span entry of the port contrary to the belief that Heemskerck popularized. The lighthouse of Alexandria was three blocks in different shapes (cubic, octagonal and cylindrical), while the drawing shows a tower approaching what was thought to be the form of the Tower of Babel.
For the hanging gardens of Babylon the author seems to have had on hand documentation because it is perhaps the one that is best represented. Even though it is also this marvel that one knows the least, with a fragmentary and unreliable documentation. The mausoleum of Halicarnassus is also very different since the latter was monobloc, with a quasi cubic lower part, an intermediate part surrounded by columns and an upper part formed by a graduated roof. The statue of Zeus is also relatively well reproduced, probably because it does not differ too much from popular imagery. This statue was represented in a sort of church choir when in truth it was in a naos, the equivalent of the choir in the Greek temples. Except that they had a decoration made of bas-reliefs and limestone statues, while this decoration is typical of the baroque Christian art. This engraving is an excellent work of reappropriation of an antique work in contemporary representation. Finally, the temple of Artemis is a Dutch-style building as it existed at the time of the engraving, it is very far from the true Greek temple dedicated to Artemis and whose forms do not differ from what is usually known for such temples.
These visions are therefore strongly influenced by the artist who took a contemporary look at it. His work is therefore not documentary as it was supposed to be, it only shows a vision of the wonders of antiquity in the sixteenth century in Europe.
See also: