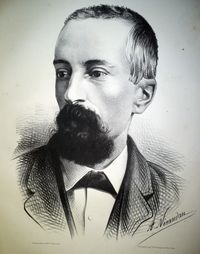 Edouard Lockroy
The journalist
Edouard Lockroy was born in Paris in 1840. At adulthood he hesitated: will he be an actor, following the example of his father (actor, then playwright)? Will he be a painter? In any case, he interrupted his studies at the Beaux-Arts to accompany Alexandre Dumas in Italy and follow the campaign of Giuseppe Garibaldi in Sicily (1860). As soon as he returned to France he left for a trip of more than three years in Judea and Palestine, as secretary and draftsman of Ernest Renan. On his return, his decision is made, he will be a journalist.
He first writes in "The Figaro" where his verve is illustrated in his section "Menus About". His texts are ruthlessly concise. The virulence of his pamphlets earned him some condemnations. He soon left Le Figaro to enter the "Four Devil" and the "Reminder" in 1869. This magazine is very committed against the Second Empire and his style is radicalized: Lockroy, like many others, had entered the career in simple laughter, with his carefree youth and mocking spirit; but the disgust had not been long in doing the rest and in giving him the clergy and the indignation, those two naive sides to which the honest man always recognizes himself. His daily "little war" against the regime led to his being sentenced to four months in prison and a fine of 8,000 francs.
The Member
During the siege of Paris he was appointed leader of the 22nd Battalion of the Republican Guard. He is particularly famous in Buzenval. He is then elected deputy: It is as much the young and intrepid battalion commander as the journalist who, on February 8, 1871, was elected representative of the Seine at the assembly of Bordeaux. It is part of the extreme left and your against active participation in conciliation attempts between Paris and Versailles; but they do not succeed. He resigned from his position as a deputy, just before the start of hostilities, at the very moment of his arrest. As he writes, a little disillusioned,to the President of the Assembly:
Mr. President, my resignation appears to have failed you; I was therefore a member of parliament when I was taken to prison. Like me, Mr. President, you will see, I hope with sorrow, how little this title is respected today. I have the honor to resign you as a member of the National Assembly.
He is incarcerated in Chartres, where he lives until June.

He is then elected to the Paris Municipal Council for the district of Roquette, in the 11th arrondissement. He sits with the Radicals. During this period he writes in the "Reminder" and, in May 1872, becomes editor-in-chief of the "People Sovereign", popular political newspaper. Several incidents punctuate his career as a journalist. He is attacked for his article "Death to the traitors", published in June 1872. Then he is sentenced to 8 days in prison after a duel with Mr de Cassagnac. On March 28, 1873 he was sentenced to one month's imprisonment and a 500-franc fine for his article entitled "Liberation of the Territory".

While in prison, Radical Republican voters in Bouches-du-Rhones apply as MPs following the death of the incumbent. He is elected with 75% of the votes cast. He joins the Republican Union (far left). He is active in the Assembly and rises several times to the tribune. In 1876 he was elected both in the 17th arrondissement of Paris and in the first circumscription of Aix. He chose the seat of Aix and is in the ranks of the extreme left. He is re-elected on October 14th after the dissolution of the Assembly.

On August 21, 1881, the electors of Aix and those of the eleventh arrondissement of Paris carried him back to the deputation. This time he chose to represent Paris. In this legislation his positions follow a more moderate line. It is sometimes aligned with the ideas of the far left and sometimes with less pronounced positions. This allows him to be reelected very brilliantly in the general elections of 1885: He arrives first elected of the capital out of 38 with 63% of the votes expressed in his favor, for a participation of 77%. He tries, unsuccessfully, to bring together the different left and eventually re-register in the radical left. On January 7, 1886 he obtained the portfolio of Minister of Commerce and Industry, in the cabinet Freycinet. He will be reappointed to Goblet Cabinet on December 11, 1886.

It is as a minister that he ardently defends the project to build the 1,000-foot tower for the World Expo.

His political career continued with the position of Vice-President of the Assembly in 1894-1895, then the position of Minister of Marine under the government of Léon Bourgeois. He initiated important reforms which earned him to keep his position under the governments Brisson (1898) and Dupuy (1898-1899). In 1905, Édouard Lockroy helped to enact the law of separation of Church and State.

He died on November 22, 1913. He was buried on the 25th at the Père-Lachaise cemetery.





See also:

Biographies of the Eiffel tower