The asouvent theater took the Eiffel Tower as a backdrop. It is found in many scenery, but sometimes it has a more prominent role. The excerpts below highlight it. There is an excerpt from "a visit to the exhibition of 1889", a vaudeville in 3 acts and 10 paintings by Henri Rousseau, known as Douanier Rousseau, and another extract from "Married in the Eiffel Tower" by Jean Cocteau.
"A visit to the 1889 exhibition" by Henri Rousseau
It is a vaudeville in 3 acts and 10 paintings whose scene represents a piece of the exhibition of 1889, a perspective on the Champs de Mars and the Eiffel Tower, in the background. It features the character of Mariette, a rather frustrated person who goes on site to visit the exhibition. The author imagines that Mariette has never heard of the Eiffel Tower, which is already a comical effect since it is already a very famous moment. She is accompanied by the couple she calls "her bosses", two other characters just as uninformed as she is about what to see at the exhibition.
Mariette, apercevant la Tour :
Ah, sainte Vierge Marie, qu' c'est donc beau et qu' c'est donc beau et qué qu' c'est donc que c'te grande échelle là, qu'est ben pus haute que le clocher de l'église de cheux nous. Ah, par exemple c'est ben drôle, mais comment donc qu' l'on fait pour y monter, les barreaux ne sont point ronds, et pis y sont tous de travers. Tiens, mais j'voyons du monde tout de même qui y monte et qui sont tous dans le haut et qui ma fé sont gros comme des pucerons ; par où donc qu'c'est qui sont rentrés. Ah, les inventeux d'une chose pareille ont eu une ben drôle d'idée pour c' que c'est biau :moi j'aurais voulu faire une chose ben plus belle que ça. Dites donc. M. Lebozeck, expliquez mé donc ça, qu' j' n'y comprenons pas ben ; comment qu' c'est qu' l'on peut monter jusqu'en haut ousque l'on voit un grand drapeau et de fait si vous vouliez l'on pourrait ben y aller voir aussi, comm' ça j' saurions ben c' qu'il y a de si curieux dans c'te grande échelle là, j' sommes ben en train et voudrions nous instruire.
Mr Lebozec :
Mon Benjamin, Mariette a raison c'te tour Eiffel est ben curieuse à visiter, nous pourrions ben faire comm' les autres y aller vouairre, et pis ça doit être ben drôle jusqu'en haut, on doit bien y avoir beaucoup d'air, mais dam ça n' sera pas un air de moustique. Donc, si tu l'veux ben approchons-nous d'ce côté, nous allons ben voir comment qu'y faut faire pour grimper là-haut. Allons-y, tu veux ben n'est-ce pas, tu n'refuseras pas ça à ta p'tite femme ?
Mr Lebozec, apercevant le gardien :
Dites donc, mon bon Monsieur, j'avons quequ'chose à vous d'mander. Pourriez-vous me dire comment qu' c'est qu'y faut s'y prendre pour monter jusqu'au haut de c'te grande échelle ?
Le gardien, un peu froissé :
Comment cette grande échelle dites-vous ? Sachez, Monsieur, que c'est la tour Eiffel, la plus haute du monde entier, car rappelez-vous qu'elle a trois cents mètres. D'où venez-vous donc; vous n'en avez jamais entendu parler ?
Mr Lebozec :
Vous appelez ça une tour; il m'a toujours semblé qu'une tour était ronde et non faite comme une échelle remplie de barreaux. Mais c'est pas ça qu' j'vous demandons :nous voudrions ben y monter à c'te tour pisque c'est un' tour et jusqu'en haut, tout en haut, par où qu'il faut y aller ?
Le gardien, en lui désignant le côté pour entrer :
Tiens, vous n'avez qu'à vous diriger droit devant vous vers le bureau, vous verrez le prix que vous aurez à payer et vous y monterez soit par l'escalier soit par l'ascenseur – c'est le même prix.
Mme Lebozec :
Eh ben, mon ami, allons-y, ça n'nous coûtera pas cent francs, n'aie point peur et surtout ne te contrarie pas pour garder tout le charme de cette promenade. Que veux-tu,c'est pas tous les jours qu'on vient à Paris et, dame, pisque nous venons pour vouairre toutes ces belles choses de l'Exposition, il faut point trop y regarder, mon cher Benjamin. Allons, décidons-nous, le temps passe vite, profitons des instants.
Mr Lebozec :
Eh ben, femme, c'est ben, nous allons aller monter à c'tefameuse tour Eiffel, nous voilà au bureau tout d'suite et j'voyons d'ici qu' c'est cinq francs pour monter jusqu'en haut, qu'en penses-tu ? Nous y allons n'est-ce pas, c'est entendu et convenu.
Mme Lebozec :
Entendu, accepté.
Mariette :
Ah, que j'sis donc contente, j'vous remercions ben, mes bons patrons, j'vous en serons toujours gré.
"The married couple of the Eiffel Tower", by Jean Cocteau
This is a ballet from a libretto by Jean Cocteau that dates from 1921. The sets are designed to have a circulation of characters rather unusual. It was first given on 18 June 1921 at the Champs-Elysées theater by the Swedish ballet company Rolf de Maré. This piece has also been published by Gallimards.

The decor is surprising. It represents the first floor of the Eiffel Tower. The backdrop is a view of Paris, as the city is seen from the tower. In the background, on the right, there is a large camera. At the time the cameras were essentially black boxes with a lens, the decor is a dark room, long, one of the ends joined the scenes and the other is equipped with a door allowing the characters on both sides of the stage there are two actors spelled in phonograph (Yes!). When they speak, they make fast, loud sounds, and articulate excessively. Their roles are to comment and recite the role of the characters.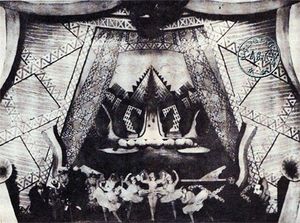 The bride and groom of the Eiffel Tower

Chaque scène est décrite par les phonographes, puis elles sont jouées. Initialement le décor est vide, le rideau s'ouvre.




Phono un. Vous êtes sur la première plate-forme de la Tour Eiffel.

Phono deux. Tiens ! Une autruche. Elle traverse la scène. Elle sort. Voici le chasseur. Il cherche l'autruche. Il lève la tête. Il voit quelque chose. Il épaule. Il tire.

Phono un. Ciel ! une dépêche. (Une grande dépêche bleue tombe des frises.)

Phono deux. La détonation réveille le directeur de la Tour Eiffel. Il apparaît.

Phono un. Ah ! Ça, monsieur, vous vous croyez donc à la chasse?

Phono deux. Je poursuivais une autruche. J'ai cru la voir prise dans les mailles de la Tour Eiffel.

Phono un. Et vous me tuez une dépêche.

Phono deux. Je ne l'ai pas fait exprès.

Phono un. Fin du dialogue.

Phono deux. Voici le photographe de la Tour Eiffel. Il parle. Que dit-il ?

Phono un. Vous n'auriez pas vu passer une autruche ?

Phono deux. Si ! Si ! je la cherche.

Phono un. Figurez-vous que mon appareil de photographie est détraqué. D'habitude, quand je dis : « Ne bougeons plus, un oiseau va sortir », c'est un petit oiseau qui sort. Ce matin, je dis à une dame : « Un petit oiseau va sortir » et il sort une autruche. Je cherche l'autruche, pour la faire entrer dans l'appareil.

Phono deux. Mesdames, messieurs, la scène se corse, car le directeur de la Tour Eiffel s'aperçoit soudain que la dépêche portait son adresse.

Phono un. Il l'ouvre.

Phono deux. « Directeur Tour Eiffel. Viendrons noce déjeuner, prière retenir table. »

Phono un. Mais cette dépêche est morte.

Phono deux. C'est justement parce qu'elle est morte que tout le monde la comprend.

Phono un. Vite ! Vite ! Nous avons juste le temps de servir la table. Je vous supprime votre amende. Je vous nomme garçon de café de la Tour Eiffel. Photographe, à votre poste !

Phono deux. Ils mettent la nappe.

Phono un. Marche nuptiale.

Phono deux. Le cortège. Marche nuptiale. Les phonos annoncent les personnages de la noce qui entrent par couples en marchant comme les chiens dans les pièces de chiens.

Phono un. La mariée, douce comme un agneau.

Phono deux. Le beau-père, riche comme Crésus.

Phono un. Le marié, joli comme un coeur.

Phono deux. La belle-mère, fausse comme un jeton.

Phono un. Le général, bête comme une oie.

Phono deux. Regardez-le. Il se croit sur sa jument Mirabelle.

Phono un. Les garçons d'honneur, forts comme des Turcs.

Phono deux. Les demoiselles d'honneur, fraîches comme des roses.

Phono un. Le directeur de la Tour Eiffel leur fait les honneurs de la Tour Eiffel. Il leur montre Paris à vol d'oiseau.

Phono deux. J'ai le vertige !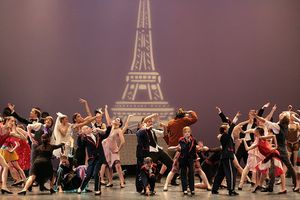 LThe bride and groom of the Eiffel Tower
It should be known that this ballet knew briefly the success, it was played in 1923 in New York. Then, once fallen into oblivion, it resurfaced in 1988 in a new scenography.
I know that this ballet originated Jean Cocteau, I have a little trouble interpreting it. There must be absurd elements inherent to the time that prevent me from understanding the message of the author. It must be said that the scenario is perfectly absurd, it is also quite assumed: A newlywed couple has breakfast on one of the platforms of the Eiffel Tower, but while one of the guests of the The wedding party gives a speech and the photographer invites the audience to concentrate on his camera, a lion comes in and devours one of the guests for his breakfast. Then a strange character named "a child of the future" pops up and kills everyone. The ballet ends with the end of the wedding. Connoisseurs see it as a joke on the stereotypes of the time (the family, the bourgeoisie, the army and even the much admired Eiffel Tower).
See also: