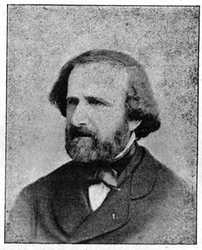 Armand Fizeau
Biography
Armand Fizeau is one of the 72 scientists whose name is on the first floor of the Eiffel Tower. He is 3rd, on the east facing side.
Mr. Armand-Hippolyte-Louis Fizeau, physicist, was born in Paris, on September 23, 1819. He is the only living, in 1891, of the seventy-two scientists whose names are inscribed on the great frieze of the Eiffel Tower. Early on he was able to study the physical and mathematical sciences. By his many works and higher order, all marked by the corner of a true originality, he was at the forefront of physicists of the nineteenth century. It was before all the world, arrived in 1849 to determine directly, by an ingenious method, the speed of light in the atmosphere, and by a memorable experiment instituted in 1856, it demonstrated definitively the influence exerted on this speed a transport movement of the medium in which it spreads. These works earned him first the Knight's Cross of the Legion of Honor, and later the Grand Prize of ten thousand francs from the Institute. In 1860, he entered the Academy of Sciences, in the section of general physics, replacing Baron Cagniard de Latour, and from 1864 to 1866, he was examiner of exit, for physics, students of the École Polytechnique. The Annals of Chemistry and Physics, the Proceedings of the Sections of the Academy of Sciences contain the series of its fruitful memoirs and works.
It was on September 29, 1851 that he presented all of his determinations of the speed of light in the atmosphere. He has powerfully helped the means indicated by Arago to solve this question in the sense that overturns the system of the broadcast. He made the wave system prevail. It is thus that M. Fizeau has conquered one of his finest titles to the scientific glory by communicating to the Academy of Sciences his researches on the hypotheses relative to the luminous ether and by exposing the experience which seems to demonstrate that the motion bodies change the speed with which light propagates in their interior. This work was epoch-making in the progress of physics. Until then, several theories had been proposed to account for the phenomenon of aberration in the system of undulations, without being able to give satisfaction to the general assent. These hypotheses, relating to the state in which we must consider the ether existing in the interior of a transparent body, could be reduced to three principal ones:
1. The ether is adherent and as fixed to the molecules of the body and shares, consequently, the movements that can be printed to this body;
2. The ether is free and independent and is not driven by the body in its movements;
3. Ether is free only for one serving; the other portion is fixed to the molecules of the body and shares only its movements.
This last hypothesis which is due to Fresnel, participates of the two others. It was conceived with the aim of satisfying both the phenomenon of the aberration and a famous experiment of Arago, by which the illustrious astronomer had shown that the motion of the earth has no influence on the refraction that the light stars undergoing a prism. For each of these hypotheses, we must consider the value to be attributed to the speed of light in moving bodies, keeping in mind that the value of this speed can be changed by the very fact of movement.

Indeed, if it is supposed that the ether is wholly carried along with the body, the speed of light will have to be increased by all the speed of the body. If the ether is supposed to be free, the speed of light will not be altered. Finally, if only a part of the ether is entrained, it is probable that the speed of light will be increased by a fraction only of the velocity, and not of the totality, as in the first hypothesis.

It is by adopting the method of Arago, based on the phenomenon of interference Fresnel principles on the difference in refraction that exists between dry air and moist air, that Mr. Fizeau was able to study directly in the media. , the atmosphere and the water, the effects of the movement of a body on the light passing through it. To this end, in his experience, he joined the double Arago tube to the apparatus of the two conjugate glasses used for a first determination of the absolute speed.





See also: