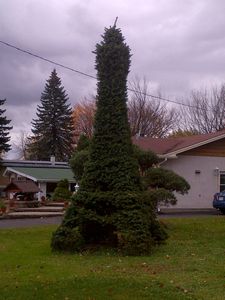 Replica of Beloeil
Beloeil
When individuals pay tribute to the Eiffel Tower ... It gives Eiffel Cypresses very successful! Obviously the resemblance to the real Eiffel Tower is quite relative, but the efforts to obtain such a tree deserves our congratulations!
This is a cypress tree seen on Lechasseur Street in Beloeil, Quebec (Canada). She is in a private garden, but the fact that she is seen from public space allows her to be on this website. Technically it is a single tree, a cypress, which grew on a metal canvas. These are probably the floors that are the most difficult to carve, they are barely marked, except the 3rd which is still well reconstituted.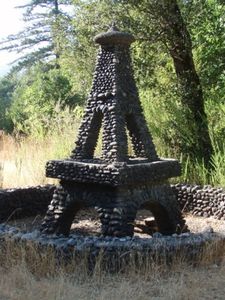 Replica of Gasquet
Gasquet
In Canada, in the town of Gasquet, is this strange stone structure paying tribute to the Eiffel Tower. She is in pebbles of river on a support of cement. It is quite well done, it must be said, even if the resemblance to the real Eiffel Tower is very far, necessarily ... This sculpture is located along the Redwood Highway (Route No. 199) near the post office.
We do not have the reasons for building such a building here.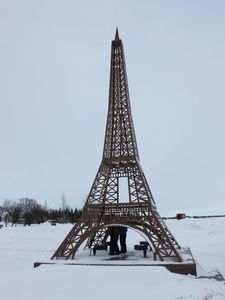 Replica of Montmartre
Montmartre
This small Eiffel Tower is in the city of Montmartre, Canada. (Province of Saskatchewan) Like many cities named "Paris", "Montmartre" celebrates its French origins by building a copy of the Eiffel Tower. This one was set up by the French community of the city. It is at the northern entrance of the city, along Central Avenue.
This is not a true copy, as a first glance confirms. It is made of 3 superimposed pieces without the stages being marked other than by a break in the curvature of the tower. The third floor is probably the most original of all the pyramid-shaped copies, (except for the one in Paris, Texas, who put on a Texas hat ...)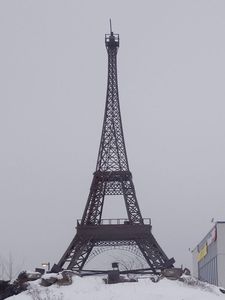 Replica of Terrebonne
Terrebonne
It is in the city of Terrebonne, Quebec (Canada), that you will see this copy of the Eiffel Tower relatively well done. It is on private land along Highway 640 and serves as a sign for a solarium construction company.
With an approximate height of 20m, its first floor is even accessible, for authorized persons of course.
See also:
All the copies of the Eiffel tower in the world