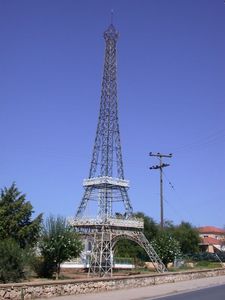 Replica of Filiatra
Filiatra
The village of Filiatra, near Messinia, is known for its copy of the Eiffel Tower. It's in the Peloponnese, Greece. The tower is at the entrance. It is 18m high, making it a 1:20 replica. It was built in the 60's and since then it has been enthroned at its location.
Aesthetically, one might think at first glance that it is quite consistent with the original, but something is wrong anyway. In fact, there are a few things that are wrong, the most important probably being that it looks more like a pylon than a Replica of the Eiffel Tower, it's due to both its light gray metal and to its shape, a little too long. This extension is reinforced by the fact that the 2nd floor is quite low, on the original tower it is higher, which breaks the height. The third floor, then, is very simplistic. It is made of a metal disk while the real tower offers a cube. Finally the first 2 floors are rather strange, as if it was a kind of balcony.
If at first you feel like you're dealing with a rather successful copy, this replica is actually quite different from the original, but because of a series of details.
See also:
All the copies of the Eiffel tower in the world