Replica of Inwald
Inwald
This copy of the Eiffel Tower is in Poland, in the amusement park "Swiat Marzen" Inwald which presents the monuments of the World in small format. It is a fairly classic concept, it is found in many countries. The Eiffel Tower is presented next to the Statue of Liberty and Doge's Palace in Venice.
The problem is that this tower is not very similar. The general shape is well made, the curvatures are correct and the floors are approximately well arranged, but it has two big defects. On the one hand the metal rods are much too thin, giving it an air of wire structure, on the other hand the floors are only underlined instead of occupying the space of the tower. The result is not very brilliant: It is recognized without problem, but we can not speak of real copy, for this one.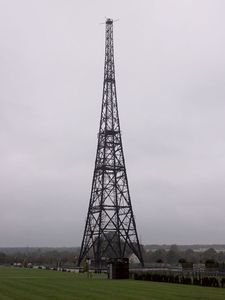 Replica of Slaskie
Slaskie
It is in the city of Gliwice, Poland, that is this pylone that is sometimes compared to the Eiffel Tower, hence its presence on this page. It is a pylon of radiotelecommunication very known in the region for two reasons: On the one hand, it is about the second highest wooden construction of the world (118m), on the other hand it played a important role during the Second World War. Indeed, it is from here that a message was sent informing the staff of the German invasion on the territory, in 1939.
It was built in 1934 and for the skeptics, yes, it is wood, this pylon, despite what you might think looking at the picture. This station is now a museum since January 2005.
See also:
All the copies of the Eiffel tower in the world